Nottinghamshire teen's husky sled races for charity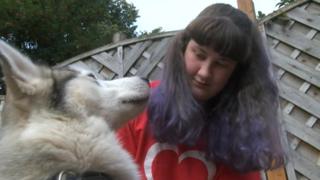 A 16-year-old born with a hole in her heart is to take part in her first sled dog racing world championship.
Shauna Ward, from Sherwood Forest in Nottinghamshire, races her team of five Siberian huskies around the country to bring in funds for the British Heart Foundation (BHF).
She had open heart surgery when she was 12 years old, and began sled racing to thank the charity for its help.
British champion Shauna will go for the world title in Poland in November.
Shauna still has a leaking heart valve but runs about four miles every two days to keep her huskies exercised.
She hopes to be able to take part in sled dog races around the world, including the famous 1,150-mile Iditarod race in Alaska.
"I just have a bond with my dogs, every time I got out running with my dogs, I just know that it's going to be a good run," she said.