Tour of Britain crash cyclist gets scarecrow effigy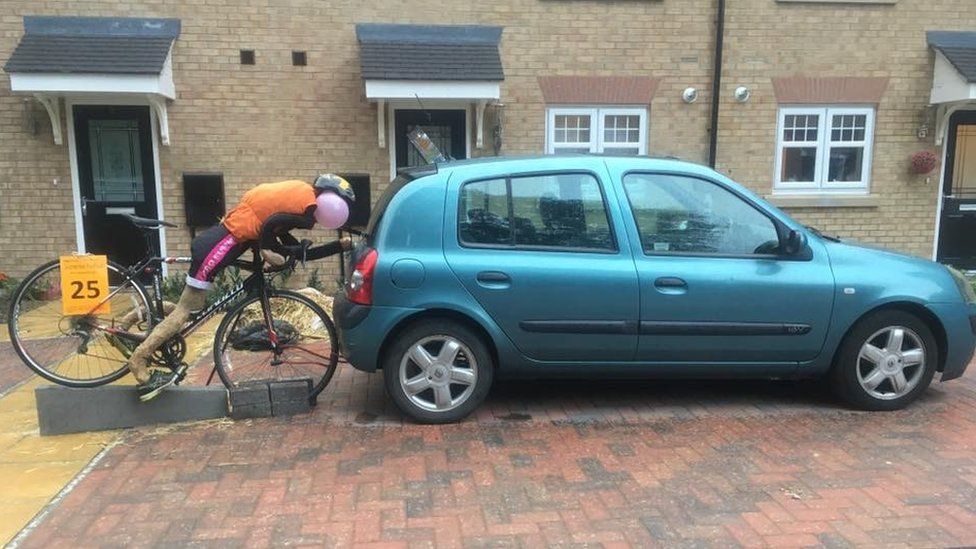 A professional cyclist who crashed during a stage of the Tour of Britain said a scarecrow effigy of him hitting the back of a car was "hilarious".
Rebecca Mowbray, from Retford, made the effigy of him for the Ordsall Scarecrow Festival and sent him a picture of it.
Mr Bookwalter's wife replied describing it as both "disturbing and funny".
Mrs Mowbray told Lincolnshire Live she decided to get in touch with the BMC rider, who suffered concussion in the crash, as she had been getting negative comments about her creation.
She contacted Mr Bookwalter on Facebook and his wife Jamie replied on Tuesday night.
She said: "[Brent] is still having problems reading computer screens due to the concussion, so he can't reply right now, but we would love to see the picture and think it's hilarious, send it over.
"Brent has never had a scarecrow effigy, this would be a first."
After seeing the picture she said: "Love the scarecrow Rebecca! Disturbing and funny at the same time."
Mrs Mowbray told the BBC she thought making the effigy would be "topical" and a "great idea" and was mocking the town rather than the cyclist over the crash.
"I wanted to say 'good old Retford, we can't even get that right'," she said.
However, a small number of people told her her scarecrow was "inappropriate" and "awful", after which she contacted Mr Bookwalter for his thoughts.
She said she felt vindicated by Jamie Bookwalter's replies.