Train carriage dedicated to WW1 rail staff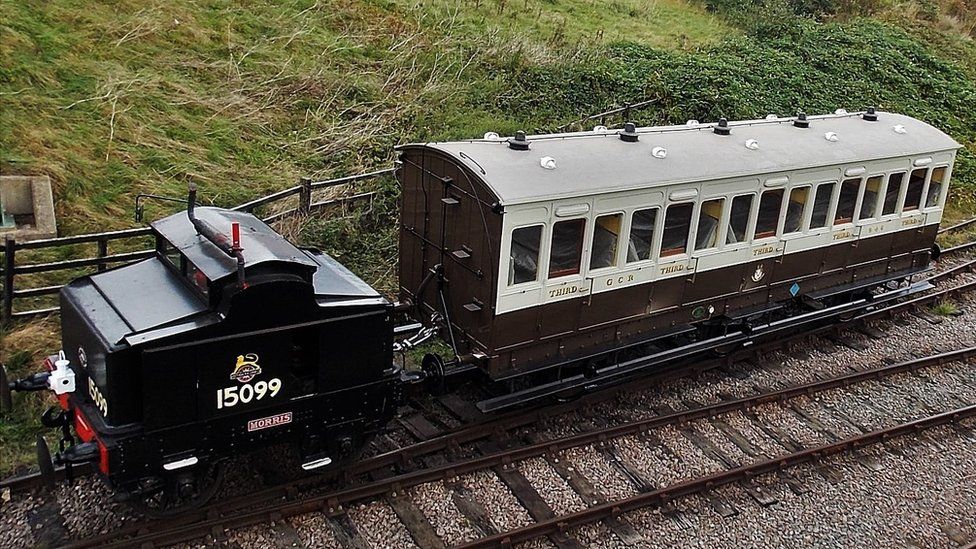 A newly-restored train carriage is to be dedicated to the memory of rail staff who served in World War One.
The 1888 carriage - the oldest owned by the Great Central Railway Nottingham heritage group - has been brought back to its former glory over 16 years.
More than 10,000 GCR staff - a third of the total - served in the armed forces and more than 1,300 were killed.
Plaques will be fitted to the carriage, which will have a permanent home at a museum being built near Leicester.
The plaques were being fitted at a ceremony at the group's base at Ruddington, Nottinghamshire.
The carriage is described as a Manchester, Sheffield and Lincolnshire Railway six-wheel carriage, No 946.
Richard Tilden Smith, from the group, said: "It has added poignancy as this is the sort of carriage involved at Quintinshill, a rail accident was killed and injured nearly 500 troops in 1915.
"It is a beautiful carriage and a fitting tribute, which will be used occasionally on the line but will live at the new museum."
The Great Central Railway, which ran from Manchester to London, was merged into another company in 1923 and much of the line was torn up in the 1960s.
A project to link two stretches of heritage line, in Nottingham and Leicestershire, is nearing completion.
Related Internet Links
The BBC is not responsible for the content of external sites.