'Extinct' diamond spider found at National Trust park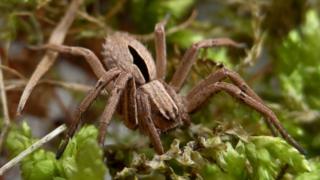 A spider not seen in the UK for about 50 years has been discovered at a National Trust site in Nottinghamshire.
The diamond spider, so-called due to its markings, was presumed extinct, but was found by two trust volunteers on heath land at Clumber Park, Worksop.
The spider, 7mm (0.2 inch), has only been recorded three times, all in the south of England, and not since 1969.
Lucy Stockton, who made the discovery, said she was "thrilled" by the find and that the species still existed.
Live updates and more from the East Midlands
Ms Stockton and a fellow National Trust volunteer were taking part in a ecological survey of the park when the arachnid was spotted.
She said: "The spider ran away from me twice but with persistence and some luck I caught it.
"Upon closer inspection our spider had a conspicuous cardiac mark, a black diamond shape on its abdomen, edged with white that helped us to identify it."
The last recorded sightings of the arachnid occurred in Legsheath and Duddleswell, in Ashdown Forest, East Sussex, in 1969.
It was also found near Brockenhurst, in the New Forest, Hampshire, at the end of the 19th century.
The spider's habitat includes boggy areas with moss, purple moor grass and heather.
The National Trust is currently working on an £8.5m restoration project to revive parts of Clumber Park and hope to restore 25,000 hectares of habitat by 2025.
Matt Shardlow, chief executive of conservation group Buglife, said they had almost given up hope of finding the "pretty little spider".