Jeremy the 'lefty' snail dies days after mate has young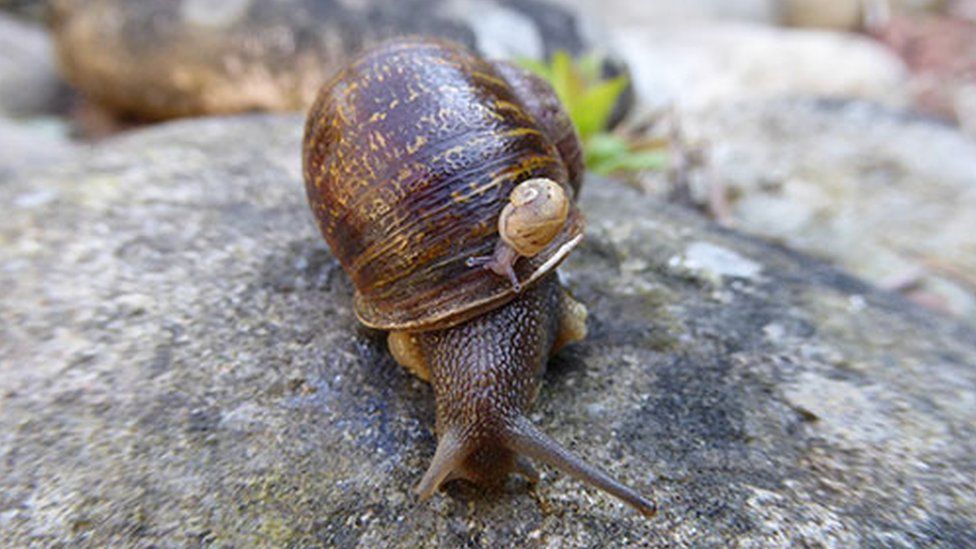 Jeremy, the famous left-coiled snail whose search for love sparked a media sensation, has died.
However, his legacy will live on as shortly before he died, his "lefty" mate Tomeu had young.
The "one in a million" snail died on Wednesday, the University of Nottingham said.
In May, it looked unlikely Jeremy would produce offspring as, despite potential mates being found in November, he had failed to reproduce.
Tomeu produced a batch of 56 offspring, all with right-spiralling shells.
About one third of them are likely to be "fathered" by Jeremy. The remainder will be the result of an earlier liaison with another lefty before its return to Ipswich.
The university said it could not be sure of Jeremy's exact age but he was "at least two".
Timeline of Jeremy's love quest
October 2016: The University of Nottingham appealed to the public for help in finding Jeremy, who was from London, another "lefty" to mate with. So-called righties and lefties can't get it on because their genitals are in the wrong place.
November 2016: Two potential mates were found and sent off to the University of Nottingham. One was spotted crawling up a tree in Ipswich and the other had escaped "the pot" at a snail farm in Majorca.
May 2017: Jeremy was left on the shelf. The two lefty snails decided to mate with each other and all 170 of their young were right-coiled.
October 2017: Jeremy produced offspring - they hatched on 5 or 6 October.
October 2017: Jeremy dies on 11 October.
Dr Angus Davison, from the University of Nottingham's School of Life Sciences, said: "Through the appeal on BBC Radio 4, which then went out worldwide, we ended up finding six other lefty snails. This would not have been possible without the public's help."
There is a serious scientific aim to Dr Davison's work and he discovered a gene which determines whether a snail's shell twists in a clockwise or anti-clockwise direction.
He said the same gene affected body asymmetry in other animals, including humans, which could help understand how organs are placed in the body.
Dr Davison added: "This may be the end for Jeremy, but now the snail has finally produced offspring, this is a point in our long-term research goal.
"Ultimately, we would like to know why these snails are so rare, but also how the left and right sides of the body are signalled at the molecular level, and whether a similar process is taking place during human development."
Related Internet Links
The BBC is not responsible for the content of external sites.