Stranger Things return marked with displays in Nottingham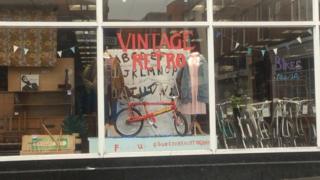 A charity shop has marked the return of hit TV show Stranger Things with a homage to the 80s-set drama as their window displays.
Staff at the Sue Ryder shop in Goose Gate, Nottingham, said the display, complete with a retro chopper bike, had been a hit with fans of the show.
Devotees of the Netflix show also took to the internet to praise the decorations.
The series, starring Winona Ryder, is due to return on 27 October.
Zoe Nott, assistant manager of the shop, said a similar display had been very popular with shoppers last year, and a donated chopper bike gave this year's effort a new twist.
"People take a lot of photographs with it, people have been coming up to us and asking about it," she said.
"After we shut we've got blue lights in there, and we find lots of people are taking photos at night-time as well, which is really cool."
Christmas lights and wall lettering played a key part in the storyline of the first series.
Nearby, vintage clothing shop Cow, on Carlton Street in the Lace Market area, has also attracted curious glances with its own homage to the show.
Cow's Lynne Bools-Roberts said their display was inspired by an upcoming club night in Nottingham, with a few "quite subtle" references to please hardcore fans of the cult series.
"We've actually got a store in Sheffield and they did a Stranger Things window last year when it was first out, and it just got so much interest on social media," she said.
"For the people who recognise it they just get so excited - I love it."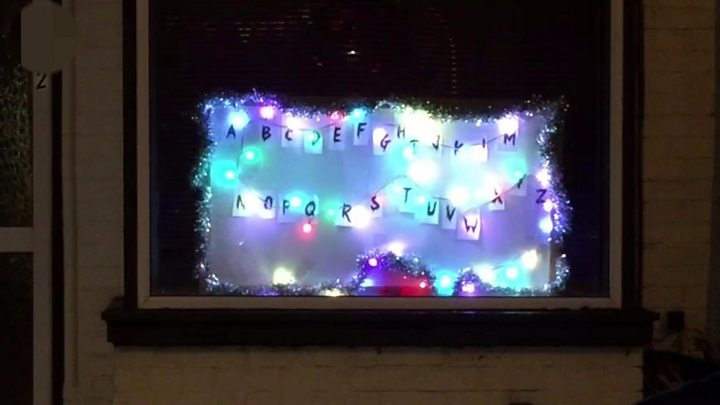 One customer at Cow said the display was "quite sweet" and made them "excited" for the show's return, while users of social media site Reddit reacted with interest to the displays.
Osco Universe said: "Omg saw this yesterday and my cousin said 'why don't you buy that bike you can be like a Stranger Things kid' but I didn't realize it was actually a Stranger Things display."
Stranger Things is set in Hawkins, Indiana, and was a supernatural smash when it appeared on Netflix last year despite being created by as then unknown writing duo the Duffer brothers.
Its fans are known for their passion, with one follower from Birmingham designing his own Christmas window display last year.