Breastfeeding mum 'shocked' over course baby feeding ban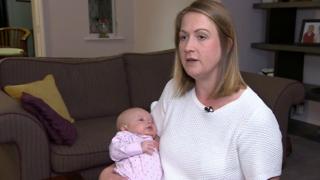 A woman says she was "shocked and embarrassed" after being told to take her breastfeeding baby out of a speed awareness course.
Claire Jefford took 10-week-old Maud to the venue, a hotel in Nottingham, at the weekend.
She said she was told no children under 16 were allowed, so had to leave and miss the course.
AA Drivetech said nursing mothers were allowed breaks but had to bring someone to look after the child.
Speed awareness courses are often offered to drivers as an alternative to fines and points on the licence.
More on this and other stories from the East Midlands
Mrs Jefford said: "I didn't think it would be a problem because she is either sleeping or feeding.
"I was shocked and embarrassed they singled me out in front of the room rather than discuss it in private.
"I didn't have an option about taking her because the course takes four hours and we have a five-year-old and a three-year-old.
"Organisers said someone could look after Maud and I could take breaks to feed but my husband could not sit in a corridor with her, and a five-year-old and a three-year-old, for four hours."
'Alternative to prosecution'
Her husband Mark said: "Drivetech have made a big thing of 'If you had told us about the special needs of breastfeeding we could have got a private room'.
"Well, a private room is not good enough because of the time Claire would have missed and also you shouldn't have to feel that breastfeeding is a special need."
AA DriveTech insisted it had a supportive policy towards breastfeeding but children under 16 were not permitted on speed awareness courses.
A statement said: "It is important that everyone attending a speed awareness course, which is an alternative to prosecution, has the ability to concentrate, participate and learn without external distractions.
"Because of this, we are unable to allow entry into the course room to anybody other than the individual(s) due to undertake the course, with the exception of medical aides or interpreters."
They said they would be in contact with the Jeffords to resolve the outstanding course requirements.