'Cruel' Gloucester conman targeted grieving families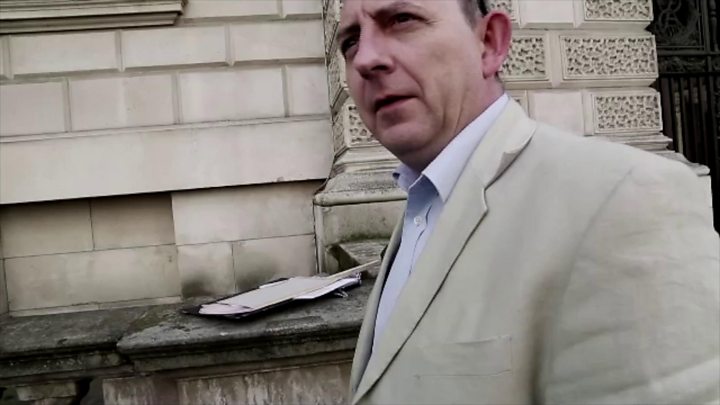 Two grieving families targeted by a conman who posed as a private detective have spoken of the pain he inflicted.
Simon Delow, who has been jailed for 10 years, claimed he could find the facts about loved ones' deaths abroad.
But in reality he was a convicted fraudster with no investigative experience and no contacts.
Julie Sheppard, whose son Andrew Watt, 31, died in France in 2010, handed over £18,000 to Delow but just got a report full of fabricated leads.
Delow, 48, used support groups to find likely targets.
Claire Martin, 30, died of stab wounds in Italy in 2012. The local authorities decided it was suicide.
Her parents Ray and Pat, from in Sutton-in-Ashfield in Nottinghamshire, reject this and are campaigning to get the files reopened.
They told BBC Inside Out they were contacted by Delow, from Gloucester, who called himself Simon D'Gresser.
"He said with his team getting into it and asking questions, they could get to the truth," said Mr Martin.
"He mentioned he had contacts within Interpol, different contacts abroad - he seemed to have someone everywhere.
"He was appearing at demos and it looked like he was fighting for us but he was only in it for one person, and that was himself."
But the Martins could not afford to pay anything to Delow.
Mr Martin said: "If I'd have had the money, or could have remortgaged the house, we could have lost quite a bit.
"To pull a con on someone who has lost somebody, to give them false hope you are helping them when there is no hope at the end of the line."
Mrs Sheppard's son, Andrew, from Durham, died in France in 2010. Police again ruled it was suicide.
She said: "You felt it was worth a try because it was three years since Andrew died.
"He seemed very convincing, he was, but coming away from it you wonder how you were taken in."
Julie and husband Les handed over £18,000 but just got an 'interim report' full of claims and fabricated leads.
Becoming suspicious, the Sheppards insisted on accompanying Delow to France, where a promised contact 'Louis' did not meet them.
Mrs Sheppard said: "[Delow] was shouting down the phone at 'Louis', swearing at him.
"Les and I just looked at each other and we both knew that we had been conned."
The Sheppards went to Durham Police who found Delow had asked for sums totalling £100,000 from a number of families.
Det Insp Aelfwynn Sampson said Delow would make lots of promises to grieving families.
"Then he would introduce that for him to do that it would cost £16,000, or £65,000, whatever figure he had in mind," she added.
"It terms of the personal impact on the family, this is just the worst kind of fraud ever."
Delow had been jailed for theft and fraud in 2008 and was still on licence when he approached the Sheppards.
At Durham Crown Court last week, he was jailed after admitting 10 charges of fraud by misrepresentation.
Judge Christopher Prince said: "Most people could probably hardly believe that anyone could have such a cruel attitude towards a fellow human being.
"You must have absolutely no conscience whatsoever, not one iota. Your behaviour was cruel.
"You cynically and deliberately targeted families who had lost their loved ones abroad, when they were at their most vulnerable, for one reason - to try and financially enrich yourself."
This story will feature on BBC Midlands Inside Out at 19:30 BST on Monday 6 November.