Environment Agency farm aims to breed 'street smart' fish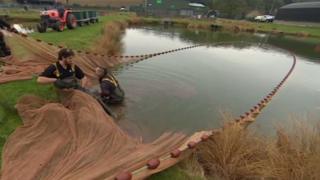 A fish farm that restocks lakes and rivers across England with "street smart" animals has started sending out its annual supply.
The Environment Agency facility in Nottinghamshire breeds up to 500,000 fish a year "as wild as we can".
It sends them out to wild habitats affected by pollution, low diversity or that are being newly established.
The weeks before Christmas are its busy period as the colder water lessens the shock for the fish in transit.
The National Course Fish Rearing Unit, near the town of Calverton, puts wild fish into a series of giant ponds and, once they have spawned, returns the fish to their homes.
Over the next 18 months it rears the young fish, including species like bream roach and tench, until they are ready to be sent out where needed.
Staff are keen to point out what they do is very different from farms that breed "game" fish like trout and salmon
Team leader, Alan Henshaw, said: "All of our work is trying to produce fish that are fit for purpose.
"The mums and dads are wild fish and we grow the fish as wild as we can.
"They know what natural food is, they know what predators are. So when we stock them out into the rivers and lakes, they are street smart."
The work is funded by revenue from rod licences, and Keith Hatfield of the nearby Clipstone Angling Club said they saw the benefit.
"It's brilliant because we have bought fish in in the past but you get a lot dying off.
"This boosts the numbers and the types you catch, which is a big appeal."