Nottingham tram crash causes worst traffic jam 'in years'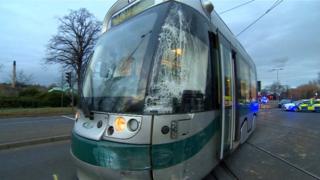 A tram derailed in a crash with a van in Nottingham causing rush-hour traffic delays described as "the worst in eight years".
Four tram passengers were hurt in the crash at about 14:50 GMT on University Boulevard in the city.
Passengers described a loud bang and screaming from people who "feared it would roll over".
Nottingham Express Transit (NET) said it would be "assisting police" once normal services resume.
More stories from across the East Midlands
Carole Wall, from Beeston, who was on board, said: "Passengers were screaming and one woman needed medical attention after being knocked to the floor."
Since the crash, engineers have been working to put the tram back on its tracks, but it has forced the closure of the road in both directions.
The jam caused severe congestion across the city, with Nottingham buses reporting two hour delays and the "worst traffic in eight years".
Jack Maclaren said it took him two hours to get to his destination in the car, which would have normally have taken him up to 20 minutes to drive.
"It was horrific, I don't think it would have mattered which way I went... It's horrendous," he said.
NET said the tram had become derailed and blocked the junction near the University of Nottingham stop.
"Four passengers have been injured as a result of the impact," a spokesperson said.
It added it was "working hard to resume service as soon as possible" and apologised for any inconvenience.
Drivers have been warned to avoid the area. It is hoped the road will reopen by Thursday morning.