Nottingham City Council plans to axe 200 jobs by April 2019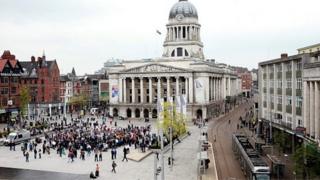 About 200 jobs are set to go under Nottingham City Council's plans to save £27m by April 2019.
The authority said it had identified £21m of savings but would still have a £6m gap despite the job cuts.
Graham Chapman, deputy leader of the Labour-run authority, said council tax would rise by 4.9% to fund the "rising costs" of adult social care.
The council had saved more than £232m since 2010 and was at "tipping point", he added.
Mr Chapman said its government funding had been "cut by half in the last three years... and by 80% since 2010".
"Unless the government comes up with funding to plug the gap it has created in caring for the elderly and disabled, we will be forced to find ways to make further savings in the New Year," he said.
The consultation period for the proposals is due to end in early February next year, before the final decision is taken the following month.
Communities Secretary Sajid Javid has said he wants to promote efficiency by giving councils greater control of the money they raise.
Changes include:
Reducing funding for weight management, smoking cessation and drug & alcohol services
Integrating parks and street scene services
Reductions in youth services including family support, youth offending and play services
Reducing funding for the Futures careers service
Supporting more older people in their own homes rather than in residential care
Reviewing transport services for adults to reduce costs
More efficient use of the Better Care Fund
Reviewing fees and charges for leisure centres and bereavement services
Reductions in central support services including IT, HR, communications and marketing
Increasing fares and reducing frequency on Linkbus services