Nottingham body-slam teen killed friend in £5 row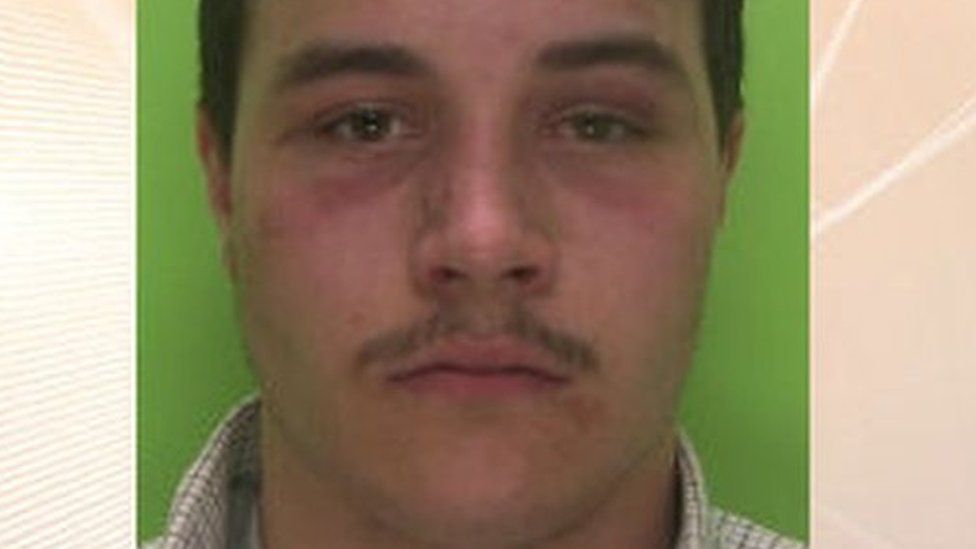 A teen who killed his 14-year-old friend in a row over £5 has been sentenced to three years and eight months for the manslaughter.
After a "minor disagreement", Cole Mackin, 18, picked Reece Seagrave up by the legs and body-slammed him to the ground in Aspley, Nottingham.
Reece was left unconscious and later died in hospital.
Mackin, of Albury Drive in Nottingham, will serve his sentence in a young offenders institution.
Nottingham Crown Court heard how on 20 April, Reece was at home with his father and asked for £10 to buy cannabis.
After being given £5, he left the house at about 21:00 BST and met Mackin - then 17 - and two others on the street.
The court heard Reece asked Mackin for £5, which led to "a minor disagreement".
CCTV footage showed the group walking before Mackin picked Reece up by the legs and slammed him to the ground.
Reece began vomiting while unconscious and Mackin put him in the recovery position and helped to perform CPR.
Andrew Vout, prosecuting, told the court Mackin then took Reece to a house on Tenbury Crescent, where he told a neighbour "I think he's dead, I think I killed him".
An ambulance was called to the house at about 21:30 but Reece was pronounced dead at Queen's Medical Centre in Nottingham at 22:15.
A post-mortem found "relatively minor" bruising to the back of the head that was "sufficient to cause unconsciousness".
Vomit was found in his airways and a cause of death was given as "aspiration by gastric contents".
Michelle Saxton, Reece's mother, said in court she still cooks her son's meals and checks in his room in the hope he will come back.
"I do not accept that my baby has gone," she said.
Steven Gosnell, defending, said Mackin "could not explain why he did what he did" but apologised, saying he "will have to live with what he has done for the rest of his life".
Judge Jeremy Baker told Mackin, who previously pleaded guilty, his actions "were wholly unjustifiable".
Related Internet Links
The BBC is not responsible for the content of external sites.