Paralysed Northern Soul fan hopes to get back on the dancefloor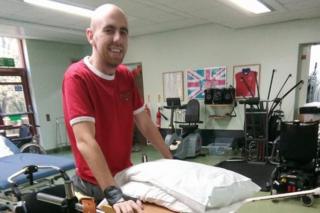 A Northern Soul fan who was paralysed in a car accident plans to get back on the dancefloor after the community donated thousands of pounds for a new wheelchair.
Before the crash in August, John Silvester devoted much of his life to going to soul nights across England.
The 23-year-old said the hardest thing about being paralysed was thinking he would not be able to dance again.
He hopes the new wheelchair will keep him active and help his recovery.
"As soon as I get out of hospital I want to get to an all-nighter, I don't care what condition I'm in," he said.
"I'm getting myself independent and I've got things to look forward to."
Mr Silvester, from Lincolnshire, was driving from work in Nottingham when his car left the road and rolled down an embankment.
"I snapped my neck, snapped the bottom of my back and punctured my lung," he said.
He was given just a 20% chance of surviving and is still paralysed from the chest down, but has regained the use of his arms and has been given a 50% chance of walking in two years.
His friend Finlay McDermott, who met Mr Silvester at a soul night, set up a GoFundMe page which raised almost £3,000 in a week.
"It did actually make me feel a bit emotional and get a lump in my throat about all the people that were giving money," said Mr McDermott.
"The amount of money that people have given is a good testament to how much of a nice bloke John is and how good that scene is."
Mr Silvester hopes to leave hospital by the end of January but will not be able to work, as he previously worked in the construction industry.
He has an NHS wheelchair but his new one will fit him better and can be put in a car.
"I had a go in a lightweight the other week and they're brilliant, they are ten times better than the ones they give us," he said.
Mr McDermott added: "Getting him a decent chair where he could actually move about and go to dos and be a bit more active would be amazing really."