Cycle lane to be moved across the road after complaints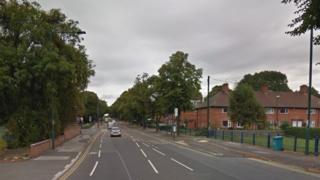 A cycle path is to be moved from one side of a road to the other just a year after being installed - provoking anger from some road users.
The route was installed by Nottingham City Council in 2016 as part of wider traffic management in the Lenton area.
However, some Abbey Street residents complained it had caused problems by taking away on-street parking.
Plans for three months of roadworks to move the lane have been called "mad" and "absolutely disgraceful".
Updates on this story and more from across the East Midlands
The cycle lane is part of the West Corridor Improvement, designed to connect areas including the Queen's Medical Centre and the University of Nottingham.
A two-way cycle path was installed on Abbey Bridge, which then split into two one-way routes along Abbey Street.
However, the council has now admitted this caused parking issues in surrounding streets and will remove one of the single paths and expand the one opposite into a two-way cycle lane.
Andy Mars said on Facebook the council's plans had been "very poorly thought through and badly executed".
Richard Thomas wrote: "I drive and cycle and think this is one of the worst uses of council funds."
Stephen Handley added: "More roadworks, more delays, more public money wasted. Absolutely disgraceful."
The council said it had carried out an extensive consultation on the original scheme and the route had seen a 15% rise in cycle journeys but it was "impossible to predict" exactly how road users would "use the space".
It added that the money for the scheme and the "revision" had come from a £6.1m development fund and not council tax.
The work is due to begin on 15 January for 12 weeks.