Ineos urged to reconsider Clumber Park fracking bid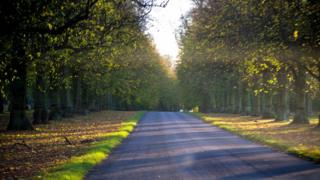 The National Trust has issued a direct plea to an energy company to ditch plans for a fracking survey on a "nature-rich oasis".
Petrochemical firm Ineos wants to conduct tests in a bid to find shale gas at Clumber Park, Nottinghamshire.
It has previously threatened legal action against the charity for refusing to allow seismic surveys on its land.
The firm said its ability to extract gas would be "significantly limited" if the trust continued to deny permission.
In a letter to Ineos, Clumber Park general manager Beth Dawson described the Grade I listed site and its thousands of acres of woodland as a "nature-rich oasis".
She said the park's "diversity and history" should be protected from shale gas extraction, also known as fracking.
'Countryside heritage'
"People have a deep emotional connection to it, they cherish it, and rightly expect us to look after it," she said.
"We cannot prevent you from taking legal action, but I do also believe that you are reasonable people who recognise how much we as a nation love our countryside and heritage.
"That's why I'm asking you to reconsider your approach and withdraw your application to survey at Clumber Park."
The National Trust said Clumber Park is visited by more than 500,000 people each year, and is home to rare species such as the great crested newt, the nightjar, nine types of bat, and otters.
Last year a diamond spider, a species that had not been seen in the UK for 50 years, was discovered in the grounds.
'Non-intrusive'
Ineos has identified the East Midlands as a key area for potential shale gas extraction, and has been granted permission from landowners around Clumber Park to explore sites.
It has said its ability to extract gas would be "significantly limited" if tests could not be carried out National Trust land.
The company said the surveys were classed as "non-intrusive", with the condition of the land recorded before the survey and restored to the same condition afterwards.
It said it used specialist trucks to create and record sound waves to map rocks deep underground.
Efforts to explore Sherwood Forest for fracking have also been opposed by environmental campaigners.