Briton 'freed' in Dubai after being found with 'too many pills'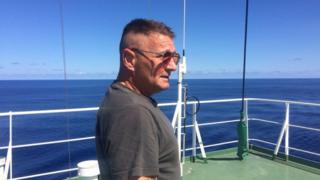 A British man detained in Dubai who claimed he was being denied treatment for prostate cancer has been freed, according to a campaign group.
Perry Coppins, 61, was stopped by customs officials in the United Arab Emirates (UAE) on 1 November for having "too many pills" on him.
He said he was carrying legal anti-anxiety medication and prescription documents for a six-month ship voyage.
Detained in Dubai (DiD) said charges against him have now been dropped.
Mr Coppins told the BBC that he was "exhausted" following the "tough" experience.
"I can't wait to get on that plane," he said.
"I am furious about my treatment here. It has just been too much."
Live updates and more from the East Midlands
The maritime security officer, from Eastwood in Nottinghamshire, was due to complete six months' work on a ship.
He said he was carrying a supply of Temazepam, Clonazepam and Citalopram to last for the duration of the posting.
The drugs are legal in the UAE when carried with prescription documentation, but despite having the papers he was jailed for five weeks.
Mr Coppins was diagnosed with prostate cancer following his arrest and was denied medical treatment while in custody, DiD said.
Despite being due to face trial on 15 January, DiD said his passport has now been returned and the charges against him dropped.
The group's chief executive Radha Stirling welcomed the decision, and said it was "a misjudgement" that turned into a "life-threatening situation" for Mr Coppins.
The campaigners said Mr Coppins was "cash-strapped" after spending his savings on legal expenses.
Mr Coppins's daughter Pia had said denying her father cancer treatment was "like giving him a death sentence".
The Foreign and Commonwealth Office had been providing Mr Coppins with consular assistance.