Crimewatch bus stop rapist jailed after 25 years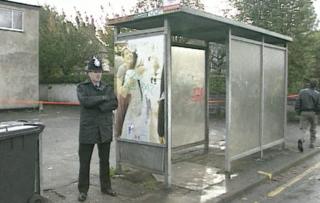 A man has finally been jailed for a "brutal" abduction and rape featured on Crimewatch, thanks to an "out of the blue" DNA match 24 years later.
Christopher Scott was also sentenced for sexually assaulting another woman, after she recognised his photo in a news report about the rape conviction.
The 65-year-old, from Nottingham, was jailed for 20 years.
The judge, Mrs Justice Carr, described the rape as a "brutal, terrifying and sustained attack".
Attacks 'caused terror'
She described the attack on the other woman, who was only 17 at the time, as "vicious, violent, terrifying and sexually motivated".
"These were two horrifying attacks which caused terror at the time to these two young women and which have caused them long-term trauma and suffering," said Mrs Justice Carr.
She also imposed an extended licence period of five years.
Scott's first attack - the sexual assault in September 1992 - left his 17-year-old victim with permanent injuries to her face.
Scott punched her twice in the head, causing her to fall to the ground, then repeatedly punched and kicked her while she was on the floor.
"I had never been punched before and could not believe the pain I was in from those two punches, and I was consumed by fear," the woman later said.
Adrian Langdale, prosecuting, said Scott was "trying to subdue" her before he proceeded to sexually assault her on the ground.
Scott then began to drag the teenager away down the road but her screams were heard by people from a nearby house who shouted out and caused Scott to flee.
Having failed in that abduction attempt, Scott carried out his second attack a month later in October 1992, this time armed with a knife.
He crept up behind his 18-year-old victim at a bus stop, grabbed her from behind, held the knife to her neck and demanded: "Don't move, give me your money or I will kill you."
She gave him cash but he then dragged her down an alleyway, repeatedly threatening her: "I will kill you."
Scott then forced her into his car, tied her wrists together and covered her head to disorientate her.
He drove her away and raped her twice. The whole ordeal lasted almost two hours before Scott eventually let her go.
Swabs which included Scott's semen were taken from the victim and these were preserved by police despite DNA testing being in its infancy at the time.
Scott was eventually caught 24 years later when he gave police a DNA sample after being arrested over a dispute with his son.
When Scott was arrested he exposed himself to two female police officers by opening the robe he was wearing.
Police also searched his home in Billesdon Drive, Heathfield, and found numerous weapons including knives, a catapult, an air gun, knuckle dusters and meat cleavers.
When he was arrested again over the rape, he lied to police even when they confronted him with the DNA evidence.
When asked how his semen had got there, he said: "No idea at all, unless I've had sex with her like I've had sex with lots of women."
Timeline
26 September 1992 - Scott attacked a 17-year-old in Mapperley Hall Drive in Nottingham as she walked home. He punched her, knocked her to the ground and sexually assaulted her before attempting to drag her away. She screamed out, Scott fled, and a couple in a nearby house came to her aid.
25 October 1992 - Scott dragged an 18-year-old woman from a bus stop in Mansfield Road in Nottingham, held a knife to her throat, threatened to kill her and forced her into a car. He then drove away and raped her twice.
2007 - Ch Supt Rob Griffin reviewed the rape case, realised they had a full DNA profile of the rapist and started the investigation again. Police took DNA samples of various suspects but none were a match.
February 2008 - A full reconstruction was featured on Crimewatch which generated more names of suspects. These were located but none of them were a DNA match.
July 2016 - Scott was arrested for a public order offence due to a dispute between him and his son. Police took a DNA sample which was loaded on to the National DNA Database. Ch Supt Rob Griffin later received an email notifying him that Scott's DNA sample had matched with the sample from the rape case and Scott was arrested.
August 2016 - Scott was charged and he appeared in court, where he denied two counts of rape, one of kidnap and one of robbery.
May 2017 - Scott admitted kidnap and rape and the case was adjourned for sentencing. In the meantime, the victim from September 1992 saw his photo in a news report on the Nottingham Post website and contacted the police.
19 January 2018 - A jury found Scott guilty of indecent assault, assault and attempted kidnap in relation to the September 1992 attack.
15 February 2018 - Scott was jailed for both attacks at Nottingham Crown Court.
Ch Supt Rob Griffin, who worked on the rape case for a decade, said he felt "disbelief" when there was a DNA match.
"I actually thought I was misreading it to begin with because it was so completely and utterly out of the blue," he said.
"Here we are, nearly 10 years into an investigation and constantly meeting dead ends and then we get this match which we just weren't expecting."
He said it was "incredible" the other victim then recognised Scott from his custody photograph 25 years later.
"His picture was then in the media, she saw it online on her phone, she recognised him and came forward to the police saying 'that's the man who attacked me'."
Ch Supt Griffin said both women now feel "relieved" and will "take great comfort" from knowing Scott is in prison.
"They've waited 25 years for this moment and during that time have had to walk past the locations where the attacks took place, wondering all along who it was that was responsible for it," he said.
"Now they know."