Exhibition takes peek behind the scenes of the circus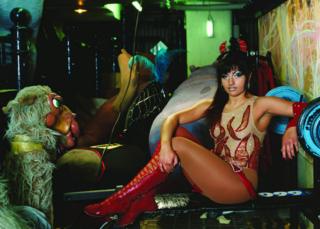 A rare insight into the world of circuses, taken over the past 50 years, has gone on show.
Photographer Peter Lavery has visited every circus in the UK and recorded the changes the industry has faced.
He said he liked showing performers "from a different angle" with a behind-the-scenes view of their work.
The Circus Work exhibition is at the Harley Gallery on the Welbeck Estate, near Worksop, Nottinghamshire, until 15 April.
The exhibition is part of Circus250, a celebration of the industry which is reputed to have started in 1768 on an abandoned patch of land near London's Waterloo.
It was there that showman, entrepreneur and equestrian rider Philip Astley is believed to have gathered together jugglers, acrobats, clowns, strong men and bareback riders and drawn out the very first circus ring.
Mr Lavery said: "I've been all over the world and just keep coming back to circuses.
"I love seeing behind the illusion they create, to the social side, and I love being in circuses, where you might wake up to a camel going past the window."
You may also be interested in: