Safety warning after pram dragged by Nottingham tram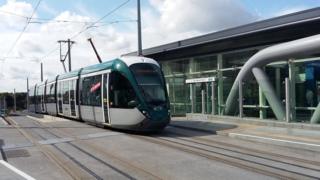 UK tram operators have been given "urgent safety advice" after a tram dragged a pushchair between stops after it became trapped in the doors.
The empty pushchair was dragged more than 430m (1410ft), from Radford Road to Hyson Green Market in Nottingham, when its plastic rain guard got caught.
The owner, who was holding a child at the time, tried to alert the driver.
The Rail Accident Investigation Branch said drivers should take "urgent steps" to make visual checks before departing.
Tram drivers should "not place sole reliance on the door interlock system when deciding whether anything outside the tram is trapped in the doors", the RAIB said.
Nottingham Express Transit (NET) previously described the incident as "very unusual".
Live updates and stories from across the East Midlands
In trying to get off the tram, the passenger moved the pushchair onto the platform, but before they could step out the doors shut, trapping the pram's rain guard.
The tram then moved off with the passenger and child still inside, at about 13:30 GMT on 15 December 2017. Nobody was hurt.
The RAIB said the tram driver did not realise the pushchair was trapped in the doors until it arrived at Hyson Green Market.
NET has been contacted for a response.