Tea towels 'spontaneously combust and cause restaurant fire'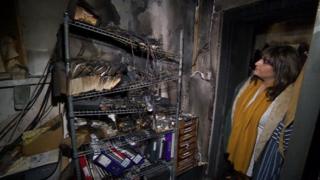 Tea towels caused a restaurant to catch fire after they spontaneously combusted, firefighters said.
The fire began at the Crimson Tree, in Sherwood, Nottingham, on Sunday after hot tea towels from a tumble dryer were placed together in a basket.
It caused £25,000 worth of damage, and the business has been forced to close until repairs are complete.
The fire service said the most probable cause was "spontaneous combustion of recently-laundered items".
Shaima Swift, 40, owner of restaurant in Mansfield Road, said it was "scary" that something so simple had caused the fire.
"It's devastating but could have been an awful lot worse, so we are just grateful nobody got hurt," she said.
---
How do tea towels spontaneously combust?
Tea towels and other laundry used in restaurants and other workplaces can contain higher volumes of fat and oil, even after washing
Putting the towels in tumble dryers raises the temperature. If a large bundle is left to cool, heat can be stored in the middle towels
The mix of high temperatures and fats can cause an exothermic reaction, which can cause a fire to start
---
Dave Cross, an East Midlands fire investigator, said this happened about four to five times a year in the region's restaurants and hotels.
He said tea towels in restaurants could get a build-up of fats and oils - and washing detergent did not get rid of this completely.
"You then put them in the tumble dryer and raise the temperature. When you take them out, what you are actually doing is compressing the middle of the tea towel pile and, as the heat is there and the fats are there, they start an exothermic reaction.
"This means they start to heat up but because they are enclosed you can't get rid of heat, so eventually they get hot enough to set fire."
He said to prevent this happening people should allow dryers to finish their full cycles before removing laundry, as dryers had a cool-down process at the end.