Woodborough house crash: Dad describes 'lucky escape'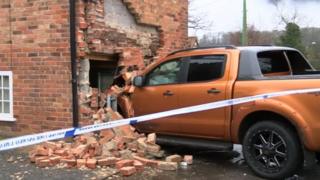 A father has described the moment a pick-up truck smashed into his family's home, sending rubble and furniture flying through the air.
The truck crashed into Anthony Scarborough's house in Woodborough, Nottinghamshire, on Saturday.
Mr Scarborough and his five-year-old son Louis were asleep in a ground-floor room when it happened.
He said: "When Louis heard the chimney breast had collapsed, he asked if Santa could still get in."
Mr Scarborough said the force of the impact in the early hours had driven a road sign through the wall and thrown the dining table across the room.
"My son's room is above where the car hit but luckily, because of redecoration, he was not in there and we were sharing a room downstairs," he said.
"There was a big bang of course but then there was a rumbling noise as bricks and parts of the kitchen came down.
"It only went on for a second but it felt like a long time.
"Rubble was thrown into the next room and we could hear it hitting the door to our room."
He added there was a lot of steam from the car's radiator and he shouted to the driver to see if he was alright.
"But once I realised how much damage there was, I got Louis out," Mr Scarborough said.
"He cried a bit at all the commotion but when the fire crews came he got a ride in the engine, which cheered him up."
Mr Scarborough said the family could be out of the house for around nine months.
"The gable end is now propped up and the side walls are bowed out," he said. "It's a big, big job."
A 21-year-old man has been arrested on suspicion of drink driving and failing to stop.