Nottingham Prison: Minister publishes action plan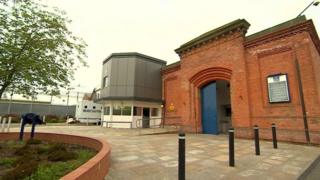 Plans to improve a "dangerous" prison have been revealed by the justice secretary.
The government was ordered to take urgent action at HMP Nottingham after inspectors found it was "fundamentally unsafe".
Minister David Gauke said £200,000 would be spent on improving mental health services at the jail.
The BBC understands nine inmates have taken their own lives the past two years.
The action plan was published just days after 37-year-old Darren Capewell became the latest man to die at the prison.
---
The key commitments
NHS England will support HMP Nottingham with an extra £200,000 to improve mental health services
A local suicide prevention policy has started, providing additional training for staff who manage vulnerable offenders
Specialist healthcare staff will spend more time with those most at risk of self-harm
Young adult offenders will be not be held at HMP Nottingham for temporary periods, with the existing group being removed before or at their next court appearance
---
Emma Birch, whose brother Matthew Sims, 32, killed himself at HMP Nottingham in August 2016, said the prison needed to do more to understand inmates' needs.
"When you have committed a crime, you have got to go in and you have got to serve the time you have been given," she said.
"But in that process there is a duty of care and I don't think the duty of care is up to scratch."
Mr Gauke said the "unacceptable level of self-harm and deaths" would be addressed with the creation of a new suicide prevention policy.
He added young adult offenders would not be held at HMP Nottingham for temporary periods in order to "help stabilise the prison".
"I've been absolutely clear that conditions in some of our prisons are unacceptable, and I will not stand for them," he said.
"We've already taken immediate action to address failings identified by the Chief Inspector, but this action plan is only the beginning."
Last month, the chief inspector of prisons issued Mr Gauke with an "urgent notification letter" demanding action within 28 days.
This is the first time the process has been used since it was set up in November.