National Express suspends driver who wrestled 'distraught' woman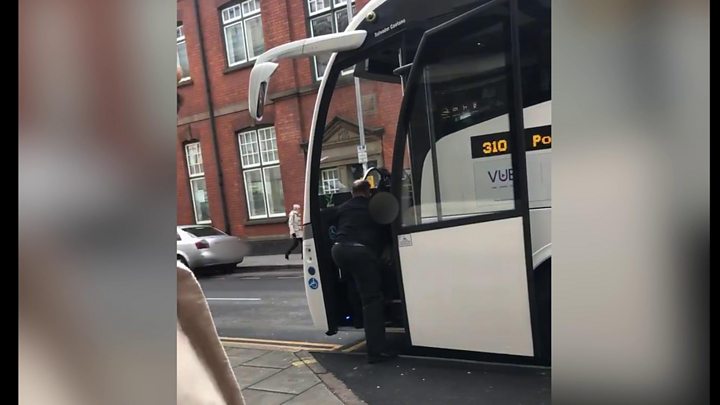 A National Express coach driver has been suspended after seemingly trying to wrestle a woman off his vehicle.
The man was filmed pushing and pulling the passenger at a stop near Nottingham railway station.
Witnesses said the woman was "visibly distraught" during the altercation on Wednesday morning, which was reportedly over an e-ticket.
National Express has offered an apology to the passenger and said it has launched an urgent investigation.
Saul Morgan said he was standing by the woman, who was heading to Poole, while he waited for a bus to London.
'Out of control'
He described the treatment of the woman as "shocking", and said he and two other men had to intervene to get the driver to accept the woman's e-ticket was valid and let her travel.
"He was grabbing her feet, he was trying to get her off the bus, and she was screaming like she was being attacked, which he pretty much was," he said.
"It all escalated out of all control, it was beyond anything.
"Even if she didn't have a ticket there are different ways of dealing with it, but he just wanted to get off on time and didn't want to know."
Mr Morgan said National Express were "absolutely excellent" in response and arranged to change drivers at the next stop in Birmingham.
A National Express spokesman said: 'We apologise for the actions of our driver, which clearly fell far below the professional standards expected of all our staff.
"The driver involved has been removed from service and suspended pending an urgent investigation. We have spoken to and apologised to the customer involved."