Nottinghamshire health services on highest alert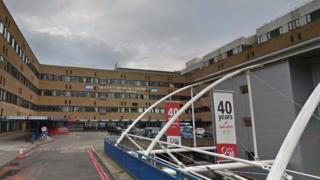 Health and social care services in the south of Nottinghamshire have been placed on the highest alert.
The Opel 4 status, formerly known as black alert, has been in effect at Nottingham University Hospitals Trust (NUH) since Monday.
But the warning has now been extended to include council-run health services and the ambulance service.
NUH said it had seen high numbers of admissions relating to respiratory conditions and a shortage of beds.
It is the second time this year the Greater Nottingham system has been placed on Opel 4 status.
The system includes Queen's Medical Centre and Nottingham City Hospital, as well as Nottingham City Council, Nottinghamshire County Council and East Midlands Ambulance Service.
---
Opel 4: What it means
The Greater Nottingham system is at the highest level of alert, known as Opel 4
NHS England's Operational Pressures Escalation Levels (Opel) Framework aims to bring consistency nationally in times of pressure.
It means a trust:
is unable to deliver comprehensive care
patient safety could be compromised
external intervention is needed
---
Wendy Saviour, managing director for health and social care, said there had been "unprecedented demand" on urgent and emergency services since the beginning of the year.
Additional hospital beds made available earlier this year were already full, she said.
"These pressures have been compounded by bed closures in hospital and the community as a result of infection and norovirus," she added.
"All partners remain focussed on prioritising patient safety.
"We are looking to open further community beds in neighbouring geographic areas to create even more capacity to meet the extreme demand on the system."
NUH said Opel 4 status would remain in place throughout the weekend and would be reviewed on Monday.