Clumber Park fracking battle to be heard at High Court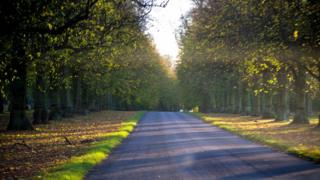 An energy company's bid to carry out a fracking survey on National Trust land will be heard in the High Court.
Petrochemical firm Ineos has said it wants to conduct tests in a bid to find shale gas at Clumber Park in Nottinghamshire.
The National Trust said the company had not considered the "potential environmental impacts" on the Grade I-listed park.
The matter has been referred by the Oil and Gas Authority (OGA) to the courts.
Lynn Calder, from Ineos, said: "Legal action has been the last resort and we have used powers which prevent landowners from blocking projects which benefit the wider community and the nation as a whole.
"These surveys are both routine and necessary across the UK, including on National Trust land."
The National Trust said in a statement that they were disappointed by the OGA's decision.
The conservation charity said: "Ineos haven't demonstrated to the trust why it is necessary to carry out any surveys here [Clumber Park] or address our other reasons for refusing to grant access.
"We have no wish for our land to play any part in extracting gas or oil."
In January, Clumber Park general manager Beth Dawson described the Grade I-listed site and its thousands of acres of woodland as a "nature-rich oasis".
Ineos said the surveys were classed as "non-intrusive", with the condition of the land recorded before the survey and restored to the same condition afterwards.