Student asked to leave Rush bar in Mansfield over turban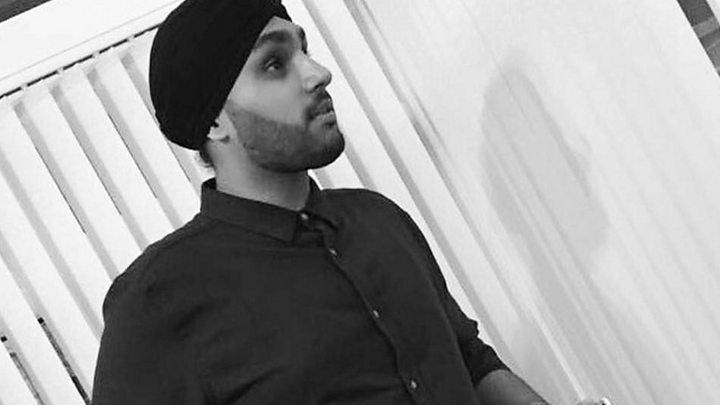 A student said he felt "victimised" when asked to leave a bar because he was wearing a turban.
Student Amrik Singh was told that Rush in Mansfield, Nottinghamshire, had a "no headwear" policy.
Mr Singh recorded himself saying his turban is a religious requirement and is then asked: "I didn't think you were allowed to drink anyway."
The management has apologised and said the staff involved faced suspension pending an investigation.
Mr Singh, 22, a law student at Nottingham Trent University, said he went to Rush with friends on Friday night.
He was initially allowed in but was approached after half an hour and told he had to remove his turban.
He said: "I explained that a turban isn't just headgear, but part of my religion and that I was allowed to wear a turban in public. The bouncer ignored this and said I needed to take it off.
"I refused and was subsequently dragged away from my friends."
Mr Singh said he asked to speak to whoever was in charge as he felt "victimised" and recorded the conversation.
In this, Mr Singh repeatedly explains the significance of his turban but is told any headgear is against club policy, "like trainers".
'Absolutely unacceptable'
Mr Singh said he was eventually allowed back in but told in future he would be barred.
He said: "This experience ruined my night. It broke my heart.
"I'm very fortunate that I'm well spoken and I am able to stand up for myself. What if it was someone who wasn't confident was told to leave? I am disgusted."
Mr Singh said he had not reported the incident to police as he did not believe a law had been broken but was "considering legal options".
However, he said he wanted the main impact of the case to be one of education "about what is it like to be treated this way".
The bar's management has apologised, calling it "absolutely unacceptable" and confirming the staff member had been suspended.