Girl 'scared to go upstairs alone' after abduction bid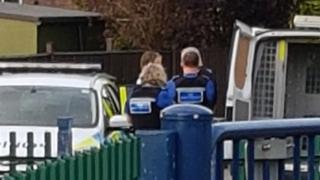 A man who tried to abduct a girl from her home has left his victim too scared to go upstairs alone, her mother said.
Police said Mikolaj Zawilinski approached two girls in Central Avenue, Beeston, before entering the victim's house on 26 July last year.
Zawilinski walked in to the girl's bedroom, sat her on his knee and was chased out by her mother. Members of the public then stopped him.
He admitted trespass with intent to commit a sexual offence and assault.
The 37-year-old was sentenced to 12 months, suspended for two years, after pleading guilty at Nottingham Crown Court on 2 March.
The girl's mother said her daughter would no longer go upstairs by herself.
"She has to be accompanied because all she can imagine in her head is that bloke being there," she said.
Zawilinski, of Jersey Gardens, Nottingham, denied the charges when he appeared before magistrates in Nottingham last year.
The girl's mother, who cannot be identified for legal reasons, said she was disappointed in the sentence and claimed the family had not received enough support from police.
"We've had no support, no counselling, no actual help towards bringing my daughter's emotional needs forwards," she said.
The mother's partner added: "Just because he's [Zawilinski] done a small amount of time on remand doesn't mean he should be let free on the streets to continue his life as normal.
"My kids can't continue their lives as normal. My youngest daughter is absolutely terrified of being in her own home and we can't do anything about it."
A Nottinghamshire Police spokesman said: "We do not comment on individual cases but if anyone has any concerns about how they or their case have been dealt with, then we'd urge them to contact us to discuss the issues."