Former Nottingham Boots factory plans to axe 400 jobs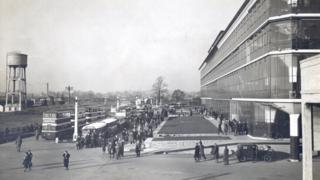 A former Boots manufacturing factory plans to cut 400 jobs in Nottingham.
Boots sold BCM, which had been part of the company since 1883, to French pharmaceutical firm Fareva in November.
BCM said the redundancies were part of a two-year plan to return the company to profit and 78 production jobs could be lost within six months.
The company, which still makes health, beauty and toiletries for Boots, employs about 1,000 people at the Thane Road site in Beeston.
Union of Shop, Distributive and Allied Workers (Usdaw) said the announcement was "a crushing blow for the hard-working and loyal workforce" at BCM.
Daniel Adams, from the union, said: "Usdaw will look at all options to save jobs... and has demanded urgent talks so that we can examine the company's rationale behind such significant job losses."
The restructure will see the production of toiletries, haircare, perfumes, foods and biocides moved to other sites owned by Fareva.
Richard Whall, managing director at BCM, said: "We have agreed a two-year plan with our owners and as part of that we, unfortunately, had to make some tough decisions to safeguard the long-term future of BCM here in Nottingham and take the business back to profitability.
"This means we will have to make redundancies."
A consultation period on the plans ends in May.