Anti-abortion group 40 Days for Life has Nottingham injunction lifted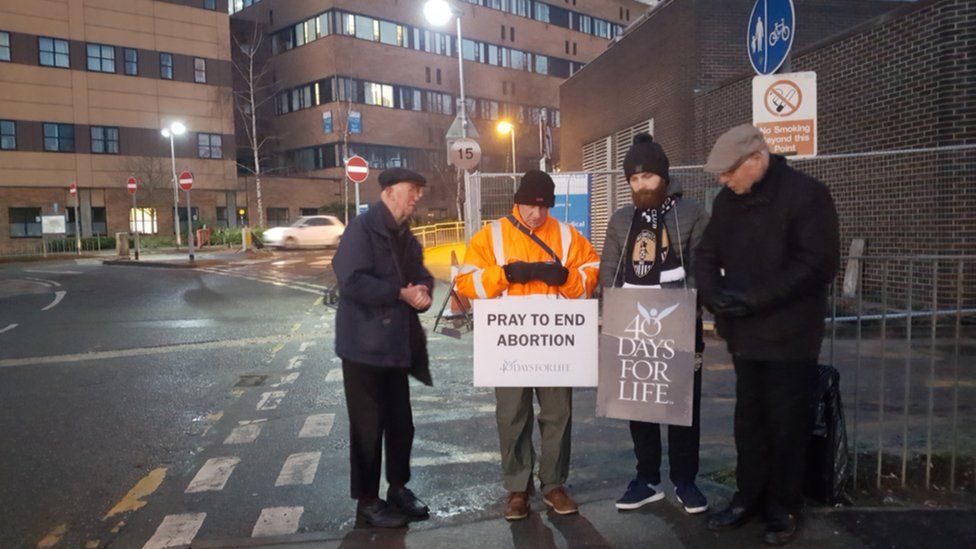 A judge has lifted an injunction a council brought against anti-abortion activists protesting near a hospital.
The city council obtained an injunction to stop the group's leader John Edwards demonstrating there.
However, a judge has lifted the ban and rejected an attempt to extend it to other group members.
Nottingham City Council sought the measure after receiving complaints from people who said they "felt intimidated and distressed" by the group.
'Disturbing implications'
Nottingham University Hospitals NHS Trust (NUH) said the group had caused "very considerable distress to patients, visitors and staff" during previous demonstrations.
However, leader of the Nottingham group John Edwards has defended the "vigils" as being "always peaceful".
Louise Aldred, from 40 Days for Life, said the group was "delighted that the court has decided to uphold our right to pray and to express our point of view in public", adding there would have been "disturbing implications for freedom of speech and religious freedom" had the injunction been upheld.
"This was a deeply misguided attempt by the city council to attack free speech simply because they disagreed with our point of view," she said.
"We understand that abortion is a controversial and sensitive subject, but that is not a reason to ban people from expressing their views."
Councillor Toby Neal, portfolio holder for community and customer services, said the judge who made the decision at Nottingham County Court on Friday, had "missed the point".
He said: "People said they felt intimidated and distressed by them [group members] and so we sought to take action that would allow the campaigners to continue exercising their right to protest, but would remove them from doing so in the immediate surroundings of the hospital.
"Our action was therefore not about limiting freedom of speech.
"We remain of the view that people who may already be feeling emotional and vulnerable should be able to access hospital services without feeling harassed by protestors."
NUH declined to comment on the judge's decision.
Related Internet Links
The BBC is not responsible for the content of external sites.