East Midlands police collaboration criticised in review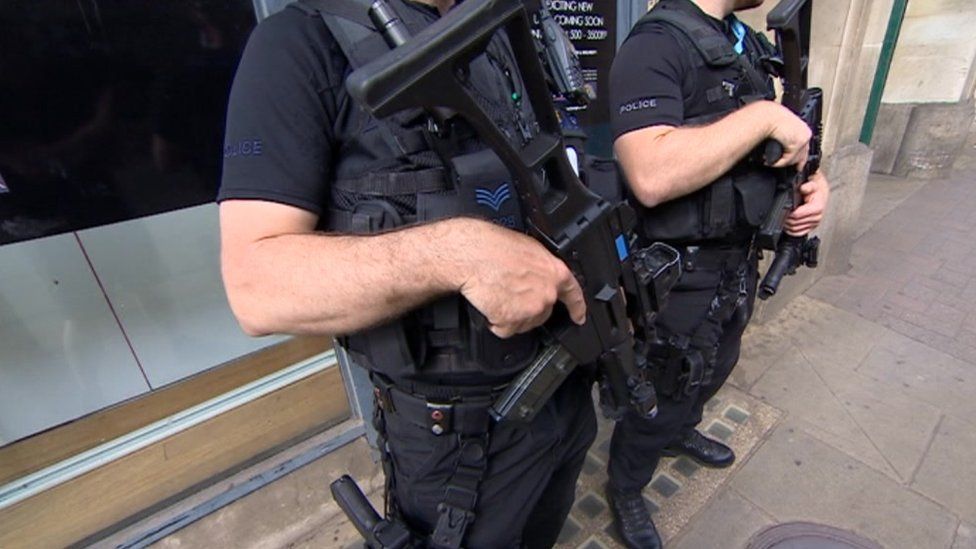 A police chief has said he is "not confident" a specialist unit could respond quickly to a terror attack.
The East Midlands Operational Support Service (EMOpSS) pools resources from across Leicestershire, Lincolnshire, Northamptonshire and Nottinghamshire.
The BBC understands that an internal review, carried out by Nottinghamshire Police, said EMOpSS is costly and "fundamentally flawed".
Leicestershire Police said the findings were not accepted by the other forces.
EMOpSS, which was launched three years ago, provides a variety of services, including roads policing, armed policing, and dog support, as well as dealing with protests and football matches.
The internal review is said to have found officers were sometimes left tired from covering larger distances, the BBC understands.
It also claimed some wires in police vehicles had melted because of the length of "blue light runs".
Paddy Tipping, Nottinghamshire's police and crime commissioner, said: "I'd like to be absolutely confident that when people are in trouble in Nottingham and Nottinghamshire, for example if there were - heaven forbid - a terrorist attack, that the nearest armed vehicle was close by and could respond quickly.
"Am I confident about that just now? No I'm not.
"That's why I think there needs to be a change and we need to base resources much more locally than they are at the moment."
Dave Keen, chairman of the Nottinghamshire Police Federation, said EMOpSS was "certainly not working" for the county.
Certainly not working for Notts as it stands. Almost zero roads policing or dogs in the county regularly.

— Dave keen (@kennyfritz2146) March 29, 2018
Analysis: Jeremy Ball, social affairs correspondent, East Midlands Today
Statements make it clear there's been a real disagreement between the police forces about how to move forward.
Nottinghamshire Police said some of these resources will come back under local control, and that means they will have their own operational support department.
But a very different response from Leicestershire - they say the other forces don't accept the findings of this review.
They're convinced that pooling resources helps them deal with major incidents, and makes them more effective, and they're committed to develop an even better relationship with the Northamptonshire and Lincolnshire forces.
Assistant Chief Constable Julia Debenham, who leads EMOpSS, said the views were "not accepted" by the chief constables of the other forces outside of Nottinghamshire, adding "areas for further development within the model" are "being explored".
"Our collective capabilities are enhanced through working together and have demonstrated their effectiveness recently in dealing with major incidents and events," she said.
Related Internet Links
The BBC is not responsible for the content of external sites.