Homeless people's vending machine removed after trial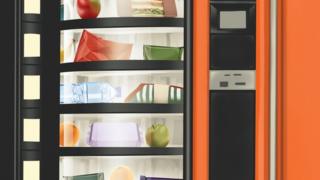 A vending machine providing 24-hour access to food and clothing for homeless people has been removed from a shopping centre.
The machine, believed to be the first of its kind in the UK, was installed in Nottingham's Broadmarsh in December.
The city council said it had been a "misguided and ill-informed attempt to address complex problems".
The charity Action Hunger said the decision not to support the project further was a "shame" for Nottingham.
The machine, stocked with items such as fruit, socks and toothpaste and activated with a key card, was sited at the centre for an initial one-month trial period.
It made headlines across the world, including in the Washington Post, but the project will no longer be supported at the shopping centre.
Although many believed it was a good idea, it did face some criticism, and in December, Jason Marriott, an outreach worker from the charity Framework, tweeted that it was a "vanity project" and "essentially pointless".
Toby Neal, from Nottingham City Council, said: "This is a well-meaning but misguided and ill-informed attempt to address complex problems faced by people with accommodation and health issues.
"There is no evidence that it helps, and may distract people from finding long-term solutions..."
However, Conservative county councillor Dr John Doddy, a trustee for Action Hunger, said: "This will turn out to be a tremendous shame on Nottingham city, or perhaps even a national shame.
"This is not some misguided adventure, this is a real contribution to the growing problem in this country."
He said three more machines were ready to go out to other parts of the country.
Nigel Wheatley, general manager of Intu Broadmarsh, said the centre extended the trial period to "test the idea" and also increased its opening hours with added security.
Sam Crawford from The Friary, a charity that works with Action Hunger, said about 70 cards were handed out to local homeless people and the project was well received by them.
He accused the council of having a rigid approach to tackling homelessness.