'Evil' crows vandalise Newark woman's home and car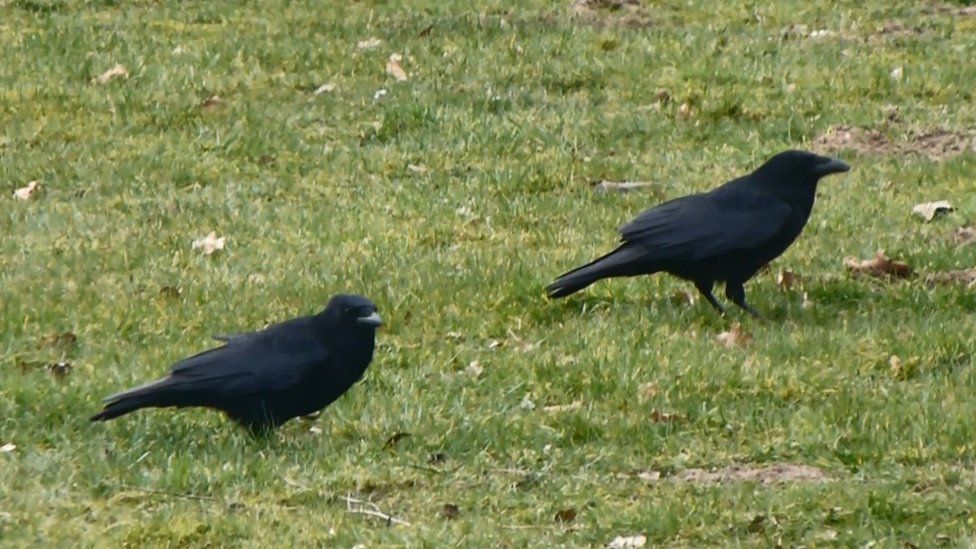 "Evil" crows have been vandalising a woman's car and pecking at the windows of her home for three years.
Brenda Brown said the same two birds wreak havoc at her home, near Newark in Nottinghamshire, almost everyday.
The 78-year-old said "George and Agnes" - named after her deceased parents - are "frightening" and costing her a small fortune in replacement windscreen wipers.
Bird trainer Lloyd Buck said there was "nothing sinister" about their actions.
Talking about the birds, Ms Brown said: "The first time [they appeared] he looked at me through the window, his eyes looked so evil.
"He didn't even fly off. It was just weird because he just looked at me. It was quite frightening."
The crafty crows have taken a particular liking to Ms Brown's Range Rover.
She said they have ripped off her windscreen wipers four times and peck away at the rubber seals around the windows, and attack the wing mirrors.
"Next door had the same colour car but they never touched that and they never banged on their windows," she said.
"I don't know what they've got against me."
They also wake her up pecking at her windows as early as 04:00.
"It does disturb me - it is really, really loud," she said.
Mr Buck said this was an "extreme case" but not unusual and "nothing sinister".
He said the crows may be reacting to their reflections in the car's windows and mirrors.
"They think there's another crow in their territory," he said.
"When something doesn't go away that they don't like, they peck the ground or anything nearby in anger."
Ms Brown said she has covered the mirrors and windows to no avail.
But now she has a love-hate relationship with the pair.
"It upsets me if there's one day they miss coming, I wonder where they are," she said.