King's Mill Hospital apologises over stillbirth errors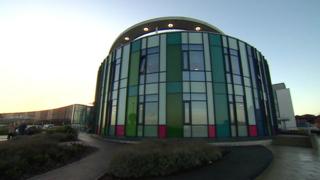 A hospital trust has apologised to the parents of a stillborn baby after mistakes in her care were highlighted in a report.
Freddie Webster died at King's Mill Hospital in Mansfield, Nottinghamshire, after his mum showed signs of sepsis.
An investigation found staff missed three chances to raise concerns about Freddie's condition to a consultant.
Sherwood Hospitals Trust said it had since made changes to its maternity services.
Following Freddie's death in June, his parents instructed lawyers to investigate the care he and his mother, Kayleigh Turton, received.
According to law firm Irwin Mitchell, Ms Turton was sent home from hospital after her waters broke, but she was readmitted later that day after showing signs of sepsis.
'Indescribable pain'
The next day tests showed Freddie's heart rate was abnormal and his condition deteriorated, the firm said.
An emergency caesarean was performed but Freddie was born showing no signs of life and could not be resuscitated, it added.
An investigation report found:
The hospital failed to follow National Institute for Health Care and Excellence sepsis guidelines
Staff failed to advise Ms Turton on how ill she was and that her baby's life was in danger
Staff missed three chances to raise concerns about Freddie's condition to an on-call consultant
A busy ward impacted on the care Ms Turton received
Hospital staff struggled to contact a paediatrician to try and resuscitate Freddie because consultants had swapped shifts and not informed switchboard operators
The hospital has accepted there were potential opportunities to deliver Freddie earlier, the report said.
Ms Turton said: "As an expectant mother you have faith in those treating you - they are the professionals - but I was scared and did not feel my concerns were listened to.
"The pain of losing Freddie is indescribable and I'm not sure we'll ever really come to terms with it.
Andy Haynes, medical director of the trust, said: "We met with Ms Turton and her family after the investigation to apologise face-to-face, offer our sincere condolences and support for the loss of her son Freddie.
"A full investigation has taken place and since this happened we have made a number of changes within our maternity services.
"For example we have reviewed practises around the monitoring of babies' heart rates and clarified the process about how and when to escalate issues to senior colleagues."