Nottingham rejects 'poorest city' finding by ONS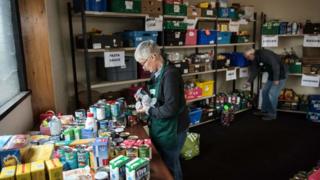 New figures that put Nottingham at the bottom of UK household incomes have been criticised for not showing "people's actual experience".
The Office of National Statistics calculated the city's average disposable income in 2016 as £12,232, against a national average of £19,432.
But the city council said small official boundaries excluded affluent areas, skewing the results.
Community charity Hope agreed the statistics did not tell the full story.
The figures calculate money available after benefits and taxes are taken into account.
While England had the highest average income in the UK, and the East Midlands ranked above four other English regions, Nottingham was still the lowest-ranked city.
This echoed the result in 2013 when Nottingham was bottom with a household income of £10,834.
In 2016, a separate survey found it was in the top ten locations with workless households.
And a report by End Child Poverty in 2018 said more than half of children in the Arboretum area were living below the breadline.
But the city council insisted the findings were caused by a quirk of the city's boundaries.
A spokesman said: "There are undoubtedly many low-income households in the city, but these statistics don't reflect local people's actual experience.
"That's because our city boundaries are smaller than most and the proportion of students, with very low incomes, is higher than most."
He added that including surrounding districts, where more than half of those who work in Nottingham live, gives a higher figure of £16,000 per person.
Nigel Adams, director of Hope Nottingham, which runs food banks and community projects, said: "Nottingham has this particular issue with the boundaries, where many of the wealthy areas are outside its limits.
"This means it tops these statistical reports, like the one in 2013, but these never tell the whole story.
"The big changes we have seen are greater extremes of wealth and poverty, more homeless, more women and families homeless.
"What Nottingham can do is make funding less about particular ethnic or age groups, more about communities."