Pay row costs Nottingham City Council £300,000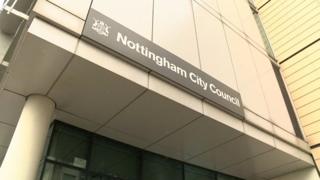 A city council has spent about £300,000 on legal fees in a long-running row over back pay for staff, a Freedom of Information (FOI) request has revealed.
The dispute began in 2011 when a group of about 600 Nottingham City Council workers took the authority to court over a decision to freeze incremental pay rises for staff.
The FOI showed the council had so far spent £290,331.67 on the case.
It faces further fees as it is set to take the row to the Supreme Court.
According to the Local Democracy Reporting Service (LRDS), the council said it was important to view the legal costs in the context of saving £28m by freezing increments, a move it said had protected about 1,000 full-time jobs.
In a letter sent to the council by four trade union leaders, it has been claimed the authority set aside £17.9m to settle the back payments should it lose at the Court of Appeal.
The council said the scheme saved £28m, but the final compensation costs - should it lose at the Supreme Court - are not yet known.
The FOI request also asked how much in legal fees the council would have to pay to cover the appellants' legal costs from the Court of Appeal case, which the city council lost.
The response said: "Nottingham City Council has not been notified of any costs that have been awarded as part of the Court of Appeal case.
"These would be decided at the end of the litigation process, which is still ongoing."