Wars of the Roses bloody finale marked by events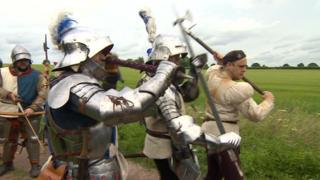 The last blood-soaked battle in a war to control medieval England has been marked at the site of the clash.
The Wars of the Roses saw the Houses of York and Lancaster fight for 30 years from 1455.
The last Yorkist king, Richard III, was killed in 1485, but supporters gathered another army only to be defeated at Stoke Field, Nottinghamshire, in 1487.
As well as re-enactments, a new battlefield trail with information boards has been unveiled.
Henry Tudor became Henry VII after his victory at Bosworth but rival factions still existed.
The Earl of Lincoln was a leading Yorkist and was named Richard's heir, but seemed to have accepted Henry's kingship.
But the appearance of a man claiming to be Richard's cousin gave Lincoln the excuse to pursue his own ambition.
The rival armies met near Newark-on-Trent on 16 June. The rebels were crushed and Lincoln, along with most of the remaining Yorkists, killed.
In is believed to have been one of the largest and most costly battles of the era, with about 8,000 of 22,000 soldiers becoming casualties.
Kevin Winter, chairman of the Battlefields Trust East Midlands, said: "Things would have been very different for England if the Yorkists had won the Battle of East Stoke, but it ended very badly for them, especially their Irish mercenaries, who it is said were "shot through with arrows like hedgehogs" because they weren't wearing armour.
"The battlefield is on private land and there is nothing else in the village to show visitors that such a major event took place there, so the new interpretation boards and Stoke Hall's annual commemoration event will help us enormously in our efforts to address that."
Guided tours will also be offered, along with stalls and a medieval encampment.
Follow BBC East Midlands on Facebook, on Twitter, or on Instagram. Send your story ideas to eastmidsnews@bbc.co.uk.