National Videogame Arcade to move from Nottingham to Sheffield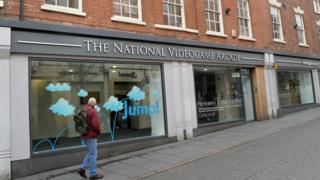 The National Videogame Arcade (NVA) is moving from its current base of Nottingham to Sheffield.
The museum, which opened in 2015, said it had become "increasingly hard to work" in the "lovely but eccentric" listed Carlton Street building in which it is based.
Games Workshop co-founder Ian Livingstone issued a call for the games industry to support the centre in 2016.
The Nottingham site will close after a summer programme of events.
The NVA grew out of the GameCity convention that was first held in Nottingham in 2006.
Mr Livingstone, along with other games developers, set up the The National Videogame Foundation (NVF) to provide further support for the centre.
The NVA will close to the public in September and reopen in Sheffield in October, according to the British Games Institute (BGI), which merged with the NVF and will also be moving to Sheffield.
They will be based at the Kollider building in the Castlegate area of the city.
An education and research facility will remain in Nottingham, and GameCity events will also return.
A statement from the NVA said the decision to leave the city was "really hard", but said they could not find another location in Nottingham "that gave us exactly what we need".
"It needs more attention than we can give to it, more staff to help visitors navigate its unique layout, more space for our growing collection and more money to keep it operational," it said.
"Nottingham is our home, it's been incredibly kind and supportive to us, but we need to take the next big step forward."
Rob Burman, sales and social media manager for Mantic Games, which is based in nearby Bulwell, said the NVA's move is "hugely disappointing".
"It was a great place for families for a day out, up and coming programmers that want to learn more about coding and just for those people who are interested in the history of videogames," he said.
A spokesman for Nottingham City Council said it is "sorry" to see the NVA move but expects to find new tenants to occupy the site "quickly".
"While the NVA's move is disappointing, Nottingham remains a nationally significant tech centre," they said.
---
National Videogame Arcade: timeline
2006 - GameCity Festival is founded in Nottingham
2008 - The festival seizes the Guinness World Record for the world's largest gathering of zombies
2011 - The GameCityPrize launches, described as "The Turner Prize of videogames"
2014 - Announcement of the UK's first cultural centre for videogames
2015 - The National Videogame Arcade opens
2016 - Nearly closes due to financial difficulties. The National Videogame Foundation is launched
2018 - Announces plans to move to Sheffield
---
Follow BBC East Midlands on Facebook, on Twitter, or on Instagram. Send your story ideas to eastmidsnews@bbc.co.uk.