Nottinghamshire councils face axe as shake up plan backed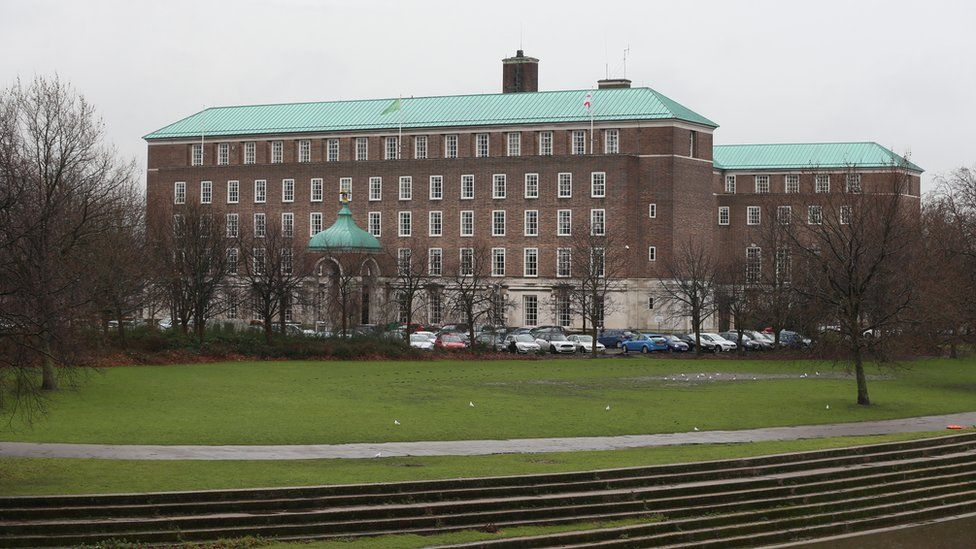 Plans to scrap district and borough councils and create a single authority for Nottinghamshire have moved forward.
Councillors voted by 35 to 30 at County Hall to draw up a business case, which will then be voted on again.
But this was a step back from the original proposal of sending the costed plans directly to central government.
Supporters said the move was worth £30m in efficiency savings but opponents said the process was "deeply divisive, and ultimately doomed".
Within the city of Nottingham, a single - known as unitary - authority provides all council services.
Highways maintenance
Adult social care
Schools
District council provides:
Refuse collection
Parks
Housing
Beyond this services are split between the county and seven district authorities.
Conservative leader of the council, Kay Cutts, said the move should have happened years ago.
"There is little justification in maintaining the bureaucracy of eight separate council offices across Nottinghamshire," she said.
"It would make life simpler, and cost taxpayers significantly less."
Alan Rhodes, leader of the Labour group, said the idea was "hugely distracting from the job we are all elected to do, deeply divisive, and ultimately doomed to failure with promises broken and expectation failing to be met".
Many councillors - some of whom sit on both county and district councils - criticised the county council for not consulting on the proposal.
Legislation states any restructuring would involve getting rid of all the councils and setting up a new authority, with all councillors having to stand for re-election.
Nottingham City Council has said if a case is sent to the Government, it will create its own bid to enlarge the city's boundaries to include West Bridgford, Arnold, Gedling and Broxtowe.
Therefore many urban areas around the city would come under the city's authority.
Related Internet Links
The BBC is not responsible for the content of external sites.