One in three drug tests at HMP Nottingham positive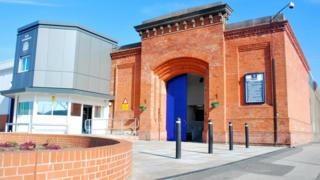 Nearly one in three drug tests on inmates at HMP Nottingham returned positive results, a report has found.
The Independent Monitoring Board (IMB) said the results included tests for new psychoactive substances, claiming the smell of drugs "can often be detected".
There were 730 self-harm incidents in 2017-18 - up from 605 the year before, but violent incidents had dropped.
The Ministry of Justice said "significant improvements" have been made since the inspection in February.
The report also highlighted issues with high staff turnover.
While the prison - which was placed into special measures during the period covered by the report - increased the number of staff, the IMB said issues "became less often of shortage... and more often the effects of inexperience".
About 50% of prison officers had less than a year's experience in the role, which affected how inmates were treated.
"Prisoners complain of inconsistent approaches by staff and experienced staff say that appeasement of prisoners by inexperienced staff makes everybody's job more difficult and less safe," the report said.
"Prisoners expect staff to be able to resolve day to day problems for them, but when staff do not understand the complexities of procedures in other departments they sometimes simply do not know what to do."
With eight inmates having killed themselves in the prison since 2016, including five in a four-week period last year, the report said it was "notable" how many deaths "continue to occur" soon after prisoners arrive at the jail.
The report also found illegal drugs "continue to infiltrate the prison by a variety of means", leading to problems with bullying, debt and long-term health issues.
Prisoners told the IMB that restrictions on smoking tobacco were "frustrating" and led to some turning to drugs instead.
Access to essential items such as clean bedding and clothing was also a source of complaints from prisoners.
A Prison Service spokesperson said: "We have recruited over 3,000 prison officers in the last 18 months to improve safety, tackle drugs and help offenders turn their lives around - including at Nottingham.
"At the same time, Nottingham's drug strategy is being strengthened, staff have been given more guidance on tackling drugs and the prison is putting in place four dedicated substance misuse officers."
Follow BBC East Midlands on Facebook, on Twitter, or on Instagram. Send your story ideas to eastmidsnews@bbc.co.uk.