Richard Bacon out of coma and tweets 'I am alive'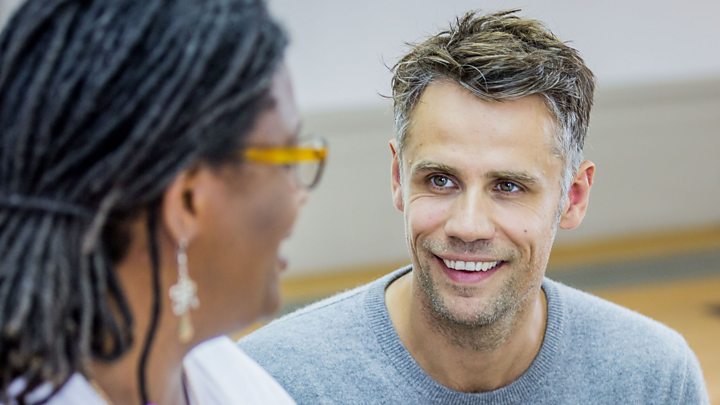 Television and radio presenter Richard Bacon is out of a medically induced coma.
The 42-year-old, who lives in Los Angeles, was taken ill on a flight from the US to Britain earlier this month with suspected pneumonia.
After his condition worsened staff at the hospital in London put him into the coma to allow his body to fight the infection.
He posted on Twitter: "I am alive. Or in Lewisham."
His first tweet since 5 July was a quote about the true meaning of love.
Comedian David Baddiel replied: "Very much hope this is actually you….welcome back".
Goodwill messages have also been sent by scientist Brian Cox and Gary Lineker, who tweeted "Have you overslept?".
Mr Bacon responded: "Yes, for six days straight".
He then posted a longer message saying that he "nearly died" and had been rushed down a hospital hallway "with a massive needle jammed in my chest…I thought, this is it."
On 5 July he posted photos of the hospital and himself being treated, praising the NHS.
But the seriousness of his condition emerged on Friday when his sister Juliet posted an image of hospital doors on Instagram, saying she had been visiting him for a week.
By the end of the day it had been confirmed doctors were reducing his medication to bring him round.
Some of his latest tweets again thank the hospital, saying he has walked in complaining of being short of breath and "With[in] 90 minutes they had placed me into a life saving six day coma".
More messages came from Love Island presenter Caroline Flack, who tweeted: "so glad you're ok", while comedian Rufus Hound joked: '"Congratulations' on 'not dying'."
Actor and comedian David Schneider said: "Take care and get better soon..."
Bacon, 42, who was born in Mansfield, Nottinghamshire, started his career on BBC Radio Nottingham before going on to present on national television and radio including The Big Breakfast, Top of the Pops, BBC Radio 5 live and BBC 6 Music.
He now works in the US.
While the exact cause of his infection has not been confirmed, its symptoms appear to match pneumonia, a swelling of the tissue in one or both lungs caused by a bacterial infection.
Follow BBC East Midlands on Facebook, on Twitter, or on Instagram. Send your story ideas to eastmidsnews@bbc.co.uk.