Nottingham beach rice and peas dish 'insulting'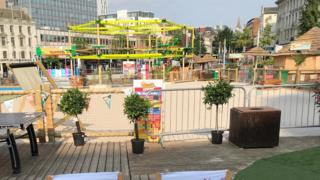 Food being sold at a city's annual beach attraction is an insult to Caribbean culture, it has been claimed.
Jerk chicken is being served with boiled rice and garden peas, rather than the traditional version made with beans.
Rastarella Falade, who was born in Trinidad, described the food as "an embarrassment for Nottingham... it makes us look like the laughing stock".
Organisers said the dish was sold as barbeque and not Caribbean style.
The Nottingham Beach has a number of rides and stalls around a sandy area in the Old Market Square.
Catherine Ross, of the National Caribbean Heritage Museum, said: "It's almost sacrilege. This is such an emotive dish, people have grown up with this and it has a special place for them.
"Different types of beans can be used but they should come dried, then be soaked overnight and cooked.
"This gives it a particular consistency and adds to the flavour.
"To produce something with this name but which is just cheaper and easier - it makes me grit my teeth".
The Mellors Group, which runs the beach attraction, said the contractor on site changed the original recipe to appeal to a wider audience, and that the chicken and rice is advertised as a beach barbecue and not Caribbean style.
You may also be interested in: