Richard Bacon: Bug left me close to death for two days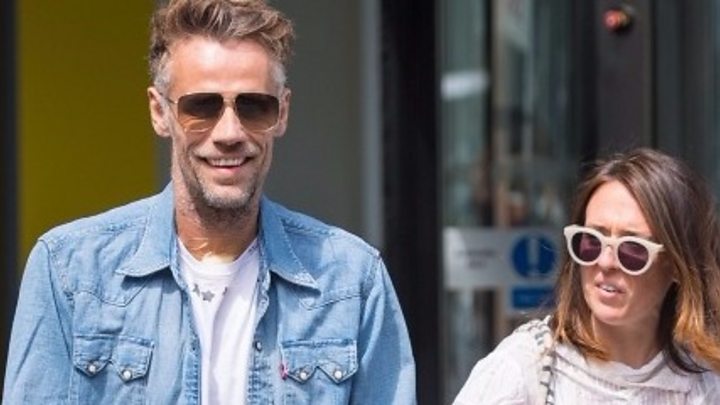 Richard Bacon has said he was "quite close to death" for two days after suffering a mystery lung infection.
The former Blue Peter presenter described being told he needed to be put in a medical coma as "the most shocking moment of my life".
The 42-year-old had been taken ill on a transatlantic flight on 5 July.
He told Radio 4's Broadcasting House a doctor later said: "There were a few points where I thought you were probably going to die."
Bacon, a radio and television presenter who now lives and works in Los Angeles, said: "The first two nights went really badly - no one's fault - the infection was winning and my lungs were losing.
"My blood oxygen level went down to 70%, and when you go below 70% basically you are looking at death or brain damage - but more likely death.
"I hit 70% and for the first two nights, I have since found out, I came quite close to death."
Bacon, who was born in Mansfield, Nottinghamshire, started his career on BBC Radio Nottingham before going on to present on national television and radio, including The Big Breakfast, Top of the Pops, BBC Radio 5 live and BBC 6 Music.
He said that the illness had struck him when he was the fittest he had ever been "by a country mile", because he had embraced a healthy "LA lifestyle".
But because he was in such good shape, he said, he put off going to Lewisham Hospital in south-east London until the day after the flight landed, despite having to be taken from the aircraft in a wheelchair.
Even after arriving in accident and emergency suffering from shortness of breath, he said he thought he would simply get drugs and perhaps be kept in overnight.
But he told how a senior doctor came in and dropped a bombshell, telling him: "It's much worse than that. I've looked at your x-ray and it's horrible."
"The doctor said, 'I need to put you into an induced coma so that we can control your breathing and if I don't do that you are probably going to die'," Bacon told Broadcasting House.
He has used social media to document his illness and recovery, and to thank NHS staff for his treatment.
When first taken ill he had originally joked he was getting in on the celebrations for the 70th birthday of the NHS.
"I hate to miss a party," he posted.
It was only when his sister, Juliet, posted images from the hospital on Instagram that the seriousness of his condition became known.
After spending more than a week in an unconscious state, he regained consciousness and was well enough to be discharged on 19 July.
Bacon told Broadcasting House he had had some moments of "feeling haunted" by the experience since coming out of his coma.
He said he had had around 250 injections in the previous two weeks, "to the point where my arms are frail and tired".
The infection was initially thought to be pneumonia, before that was ruled out.
Doctors had "given up" trying to work out what the infection was, he added, saying it was like "bird flu in both your lungs at the same time" - but that it was not bird flu.