Nottingham fairground ride crash injures woman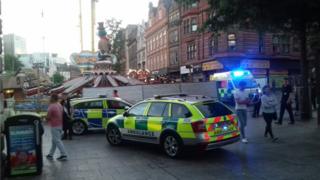 A carriage on a city centre fairground ride crashed to the ground injuring an 18-year-old woman.
She was on the Crazy Wave ride in Nottingham's Old Market Square shortly before 21:00 BST on Sunday when the crash happened.
An eyewitness said the ride continued for about half a rotation after the fall, which he said left the woman slumped over the safety bar.
Police said the woman is not thought to be seriously injured.
Richard Gibbons, 54, of Nottingham, was watching the ride, which rotates while bouncing carriages up and down, with his 13-year-old son at the time.
He said: "It had started the dropping action and then suddenly there was a really loud noise, a loud crashing noise; the seat had collapsed on to the floor of the ride."
Mr Gibbons said the arm was still attached to the carriage but had stopped supporting it.
'Looked unconscious'
He said the woman was in the carriage on her own and after the drop the seat "ploughed round the metal floor" for about half a loop before the ride stopped.
"The girl was slumped forward and was not moving. People were running over as it was obvious something was wrong. She looked unconscious," he added.
James Mellors, from ride operators Mellors Group, said although the investigation was not complete, he believed a component failure caused the ride to stop working.
"This is something that has never happened before. It has come as a shock to us all."
He said the ride will remain closed until after the investigation, then it will be taken away and re-built.
Mr Mellors added that he wished the the woman a speedy recovery.
A Health and Safety Executive spokeswoman said: "HSE is aware and is making initial enquiries."