Clumber House: Dig held at Nottinghamshire mansion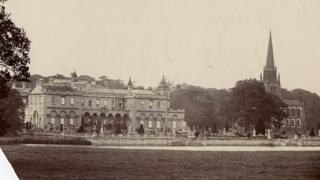 An archaeological dig has taken place at a demolished 18th Century mansion.
The excavation began on Wednesday at Clumber House in Nottinghamshire and aimed to determine whether the cellars were still accessible. The stately home was torn down in 1938.
The cellars were found during a dig on the National Trust site in Clumber Park, near Worksop, in 2016.
The trust said it was now "busy processing the finds", which include pottery and mosaic flooring.
It said it would analyse the condition of the cellars.
At least four cellars, a kitchen wall, the butler's pantry and the base of one of the Great Hall columns were unearthed during the dig.
As well as mosaic flooring and pottery, plaster work that would have decorated the walls and ceilings was also found.
The trust said there had been digs at Clumber House in the 1970s and in 2016, but "many questions still remain".
"[We] hold very little in the way of material culture from the building, as it is believed that that the house... was stripped of all its masonry and fittings prior to its demolition."
Following 1970s archaeological excavations, the outline of the house was picked out in stones.
"These lost rooms were replaced by an enormous entrance hall, which featured balustrade galleries, tessellated pavements and various niches for statuary," the trust said.
In 1879, a fire destroyed the central core of the mansion.
In 1938, it was torn down after more fires and an economic downturn.
The hot weather recently revealed a "ghost" of the mansion.
The outlines of rooms and corridors became visible as stone foundations made the ground heat up more quickly than surrounding earth, scorching the soil above in a lighter shade.
Follow BBC East Midlands on Facebook, on Twitter, or on Instagram. Send your story ideas to eastmidsnews@bbc.co.uk