HMP Lowdham guards accused of assaulting prisoners
By Samantha Fisher
BBC News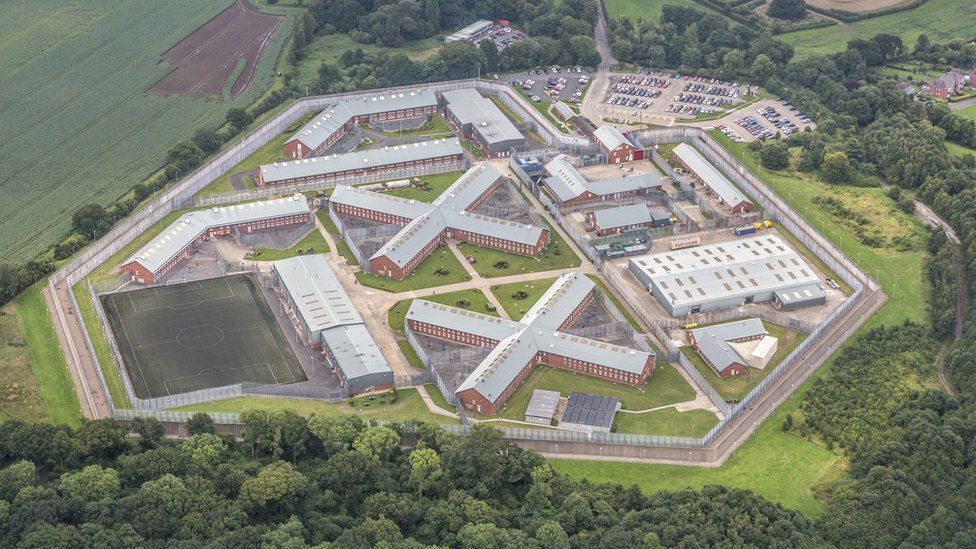 Allegations have emerged of assaults by prison officers on inmates following several outbreaks of violence at a Nottinghamshire jail.
Relatives of three prisoners contacted the BBC to complain about conditions at HMP Lowdham Grange.
One said she was told a handcuffed inmate had been thrown down stairs and others "pulled from cells and punched".
Serco, which runs the prison, said it had received no complaints about officers assaulting prisoners.
Lowdham Grange was "peaceful and operating to its normal regime", it added.
The allegations have been made against a background of rising violence at Lowdham over the past few years.
The latest prison inspection, in 2015, concluded use of force by staff "was very high" and not always "fully justified or warranted".
Inmates' relatives said mistreatment of prisoners had raised tensions and caused the recent outbreaks of disorder.
However, the Independent Monitoring Board - which sends volunteers to observe day-to-day life inside prisons - said it had been "impressed by the efficient, calm and humane way" in which serious incidents were tackled. It also highlighted "concerted indiscipline" by groups of prisoners.
The BBC has asked Serco what caused the recent disturbances but it has not responded to the question.
What are the allegations?
A handcuffed prisoner was thrown down a metal flight of stairs
Inmates not involved in the disorder were "pulled out of their cells and punched"
Stun grenades or "flashbangs" were used against prisoners
She added that, according to her brother: "Officers had balaclavas on so no-one would be able to recognise them."
She alleged the violence broke out after inmates complained about "racist" comments from guards.
There was further disorder at the prison on 31 July. The sister of a second inmate said her brother was locked in his cell for 24 hours without food as a result of "staff shortages" caused by the incident.
In many cases, new inmates were not seen by the prison's healthcare team "for weeks"
The prison was unaware of her brother's food allergies, and his "breathing was compromised"
Instances of staff-on-inmate or inmate-on-inmate violence were common
Her brother witnessed self-harm or suicide attempts every day
Complaints were often not taken seriously unless a prisoner behaved badly or harmed themselves
The prison is nicknamed "Lowdham Strange" because of the amount of inmates with mental health issues
On 6 August, there was another disturbance, which - according to two complainants - was a result of tensions caused by inmates being "locked down" during a water leak affecting the prison.
One woman, whose son is an inmate at Lowdham, said she had been told staff often beat inmates to "manipulate" them, with some needing hospital treatment.
She also said prisoners were kept in their cells for longer than the recommended time and "paid off in phone credit to keep them quiet".
According to government guidelines, prisoners should be able to spend between 30 minutes and an hour outside in the open air each day.
The company said the three disturbances over the past three weeks were unrelated and "were on different wings and each of them only involved a handful of prisoners".
In relation to the disorder on 26 July, a spokesman said "a maximum of six prisoners" had been involved in "concerted indiscipline" which was contained in the wing and no-one was injured.
He added: "There were no punches thrown. We don't go into specific tactics used, but it was resolved peacefully."
Serco said the disturbance on 31 July was further "concerted indiscipline by a small group of six prisoners on one of the wings" which was "peacefully resolved" and involved only a small number of prisoners, and that no-one was injured.
It said the 6 August disorder was "small" and "over in five minutes".
In response to the prisoners' other allegations, Mark Hanson, Serco's contract director at HMP Lowdham Grange, said: "There have been three recent minor incidents of concerted indiscipline at the prison and officers have intervened professionally and effectively to bring each of them to a close, using standard procedures and equipment.
"The safety of everyone at the prison is our first priority. We take a zero tolerance to any violent behaviour and we will work with the police to prosecute any individuals committing acts of violence."
Serco said there had been no complaints about officers assaulting prisoners and any such complaints would be referred to the police as a matter of course.
It also said it had received no allegations of racism from inmates.
The number of assaults at Lowdham Grange, which has a capacity for about 900 inmates, has risen every year since 2009.
In 2017, there were 318 assaults - up from 237 the year before, and more than double the amount in 2014.
On average, this amounts to 3.6 assaults for every 10 prisoners.
About two thirds were "prisoner-on-prisoner", while the others were assaults on staff.
In 2017, there were 402 incidents of self-harm, up from 288 the year before. A further 162 took place in the first three months of 2018.
There were two prisoner deaths in 2017 and one in June 2018.
Serco would not say how many prison officers were based at Lowdham.
What did the last prison inspection find?
In a 2015 report, HM Inspector of Prisons said levels of violence against staff and prisoners had risen since a 2011 inspection, and were much higher than similar establishments.
The report outlined how safety had deteriorated and the "levels of violence between prisoners and towards staff were high and too much of it was serious".
It also found the "use of force was very high" and the inspectors were not assured it "was always fully justified or warranted and not all incidents were de-escalated as quickly as they might have been".
Levels of self-harm had risen and were higher than comparable prisons and there were "unacceptable waiting times to see health professionals".
It highlighted that prisoners had "little confidence in the complaints system" and the jail received more complaints than similar prisons. Inspectors also found examples of complaints that were not fully investigated and responded to.
What has the Independent Monitoring Board observed?
The IMB's latest annual report found "levels of violence between prisoners and, on occasions towards staff were of concern".
It said: "Injuries sustained by prisoners were sometimes quite serious and required hospital treatment. Assaults on staff were rarer but still occurred and sometimes required hospital treatment."
The report, published in June, also said a "command suite" was opened to co-ordinate the management of "serious incidents" on at least 25 occasions during the year.
It said these incidents included prisoners balancing over railings, building barricades, "concerted indiscipline" by groups of prisoners and apparent hostage situations. The board said it observed some of these and was "impressed by the efficient, calm and humane way in which the incidents were managed".
Board members said the "worryingly high" use of psychoactive substances was one cause of violent behaviour.
The report also pointed out low staffing levels made management of prisoners difficult, and said "the proportion of inexperienced staff contributed to challenging atmospheres on some wings".
It said: "Staffing was seldom at the agreed level during the year. However the board noted that considerable efforts were made to maintain the full regime."
The board also raised concerns about the number of prisoners with mental health issues who were kept in segregation for extended periods of time and was concerned about the number of prisoners who chose to remain behind their doors during the day.
In addition, the building where the majority of healthcare services are delivered was unfit for purpose, the report said.
How have other organisations reacted?
Frances Crook, chief executive of the Howard League for Penal Reform, said: "This has been a long hot summer, and it sounds like Lowdham Grange has problems. Perhaps it is time for the inspectorate to conduct an inspection, as only one report has been published on the prison in the last seven years.
"This illustrates how prisons can deteriorate very quickly. They also show how important it is for prisons to have robust and imaginative management and careful oversight of staff."
A HM Inspectorate of Prisons spokesman said inspections took place every three or four years and they were not announced.
He said intelligence files were kept on all prisons.
"When they are assessing whether there should be an inspection scheduled, they look at what information is available.
"It will always be on a case by case basis," he said.
Related Internet Links
The BBC is not responsible for the content of external sites.