Woman punched man who grabbed her genitals in nightclub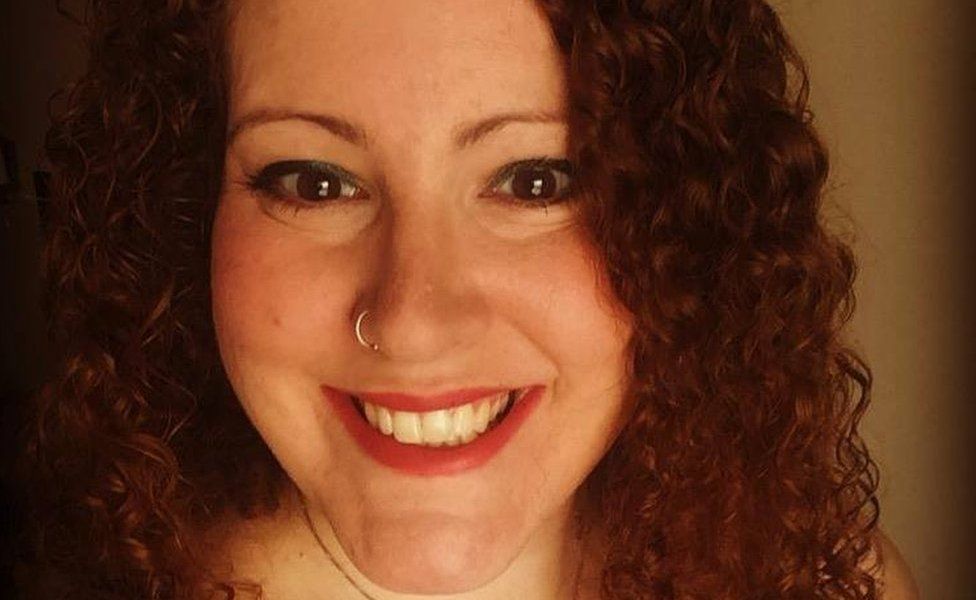 A woman who punched a man when he grabbed her genitals twice in a club says she does not endorse violence but is proud of standing up for herself.
Penny Reeve, 34, said people have been "really supportive" since she spoke out about what happened on social media.
It has also encouraged people to share their own stories of "pretty awful descriptions of abuse", she said.
Police in Nottinghamshire, where the assault happened, have asked people to report incidents like this to them.
Miss Reeve, from Nottingham, said: "I don't endorse violence at all, though I do endorse the right to self-defence and a woman's right to agency over her own body and who's allowed to touch it.
"Post the #MeToo movement I think there's much less patience for this kind of behaviour and people would like to see it challenged on a more regular basis."
The man grabbed Miss Reeve while she was dancing with friends at Mojo in Nottingham city centre on Saturday 11 August.
She initially thought the first contact may have been accidental, but when the man did it a second time she "immediately" punched him in the ribs, then challenged him.
"He just looked very embarrassed and ashamed of himself and kind of mumbled sorry and went to the other side of the club," she said.
She later posted about what happened on Twitter and Facebook.
"People have been really supportive of the way I reacted to the situation and really interesting discussions have opened up as a result," she said.
"On nights out I think often sexual harassment and assault is a way of men 'trying their luck' in a club, they often don't think of it as an offence."
Touching another person sexually without their consent is sexual assault. Nottinghamshire Police said it also treats such incidents as misogyny hate crime.
"Unwanted sexual contact is an offence and will not be tolerated and we would urge anyone who experiences it to ring us on 101," a force spokesman said.
"If it happens in a bar or club, where possible, people can also go to a member of door staff."
Miss Reeve said she did not report the incident because she felt she had dealt with it herself, but encouraged anyone who finds themselves in a similar situation to do so.
Is a physical response warranted?
Miss Reeve's social media post prompted people to share their own stories of women being harassed or assaulted by men in public places.
One woman posted: "A bloke in town bit me on the arm a few years ago. I was so shocked I did nothing, didn't even report it which I regret now.
"I salute you for punching him, wish my reaction had been the same. Sometimes a physical response is warranted and proportionate - this is one of those cases."
One man posted about witnessing a group of men pulling a young woman's skirt over her head while she was walking alone on a Saturday night.
"She's yelling and flailing, they're all laughing," he said.
"Eventually they let her go and she jogs off, yelling at them a bit. This all happens in front of Yates's - where the bouncer then gives them a 'Hey, lads!' and lets them all in."
One woman described how a group of men surrounded her car, then one got in and they took photos and videos "of me freaking out as they held the door closed".
The woman said she rang 999 and was told someone would come but they never did.
"I rang [the police] so many times to file a report and get an update and I was treated with total indifference and a 'boys will be boys' attitude," she said.
"My point is, I don't really trust the police anymore. And if we don't trust those who are supposed to protect us, what else are we to do but defend ourselves with violence if that's the only option as we see it?"
Another woman said: "Once, at a festival, I crowd surfed to get out the pit and some guy stuck his hand up my top AND bra and grabbed my boob so I turned round and booted him in the face."
Someone else described how a man pinched her friend's bottom in the street, then walked away giggling with his friends.
"She and I squared up to them and made it massively clear that what one of them had just done was not only assault but just stupid," she said.
"My friend wasn't embarrassed, but she was angry. He was embarrassed though. And his friends were embarrassed. And they all skulked off quietly."
Related Internet Links
The BBC is not responsible for the content of external sites.