Ceremony marks mining tragedy 25 years on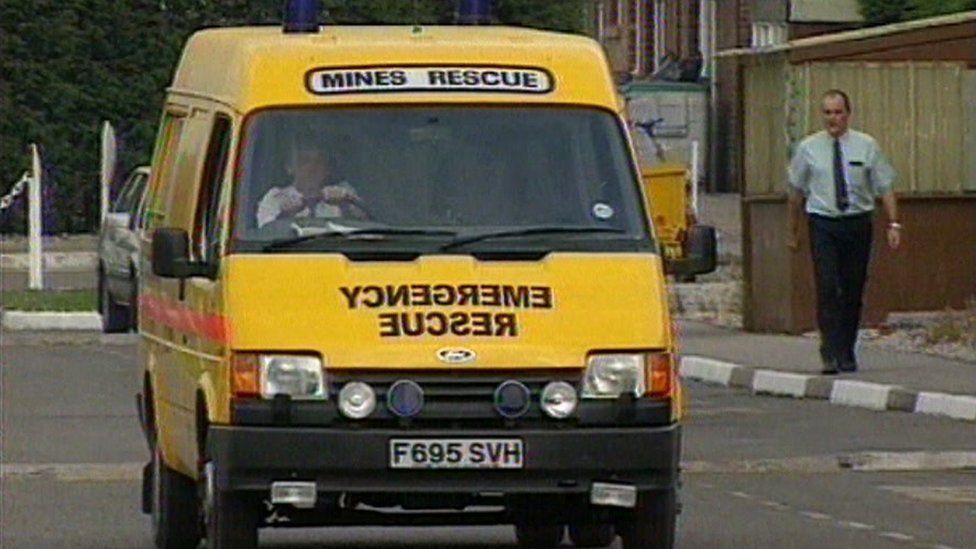 One of the last fatal colliery accidents in the UK is being marked with a special ceremony 25 years on.
On 18 August 1993 the roof of a gallery at Bilsthorpe Colliery collapsed, trapping six men.
After 12 hours, three were rescued but Bill McCulloch, 26, Peter Alcock, 50 and 31-year-old David Shelton died.
The pit closed in 1997 and the site redeveloped. The ceremony will be held near the old entrance with family and former miners attending.
The collapse happened about 2,300 feet (700m) underground, four miles (6.4km) along a gallery and saw the team buried under about 7,000 tonnes of rock.
Brian Jackson was working above ground at the pit when rescue vehicles started to arrive.
"I thought it must be a training exercise but went I got to the workshop, it was silent and I knew something was wrong.
"I was at the site for more than 12 hours and when I went home, the village was so different, the people seemed to be in shock."
In 1995, under-manager David Shelton posthumously received the George Medal for his efforts to save his colleagues, sacrificing his own opportunity to escape.
Bilsthorpe was open from 1927 to 1997 and 76 people died working at the pit.
Mr Jackson said: "That's the price of coal, the human price".
Related Internet Links
The BBC is not responsible for the content of external sites.