Firm criticised over tram dragging pram in Nottingham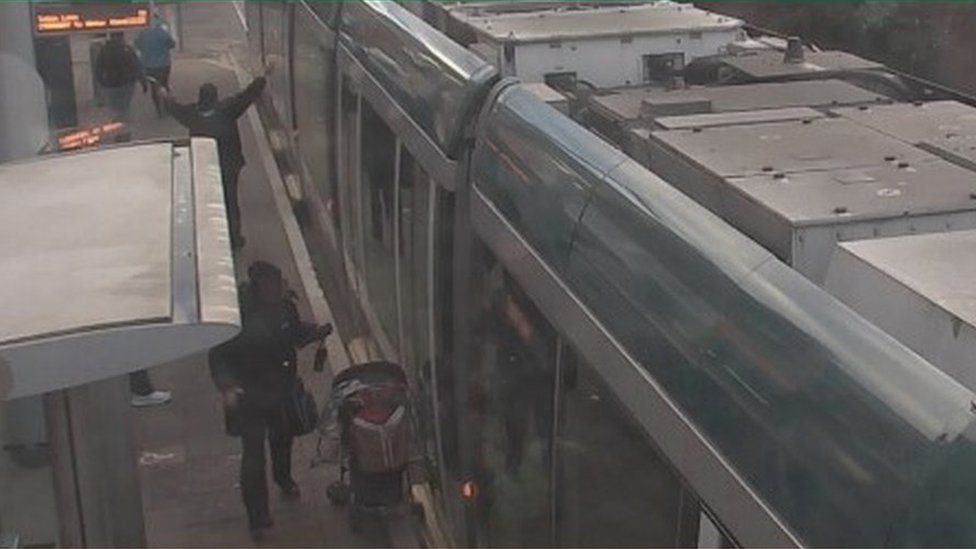 A tramway operator has been criticised after a pushchair got trapped in tram doors and dragged down the street.
NET said since the December incident it had made adjustments to on-board CCTV, training and tram stop procedures.
The report said the incident followed a dispute over a man's invalid travel card at the Radford Road stop on 15 December 2017.
As he and a travel officer left the tram, his partner, who was carrying their child, attempted to follow but the doors closed and the pushchair became trapped.
Another travel officer failed to free it while two other members of staff tried to get the driver's attention by "waving their arms above their heads".
On board, the mother tried to contact the driver who, after looking at CCTV, assumed she was in a "heated discussion" with another passenger and so decided to continue to the next stop.
He did not see the trapped pushchair and it was crushed when the tram reached the Hyson Green Market stop.
RAIB's criticism of Nottingham Express Transit
A travel officer did not ensure the whole family were able to get off the tram
The door system allowed the tram to depart while the rain cover remained trapped in the doors
The driver was unaware of the pushchair, shown on a CCTV monitor in his cab, when deciding to start the tram
The firm had neither fully understood the risk of trap and drag incidents, nor put in place suitable mitigation measures
Operation of a passenger alarm in the tram did not result in the tram being stopped
The full report said NET had not provided adequate training for its travel officers.
Simon French, chief inspector of rail accidents, said it was "easy to imagine how serious the consequences might have been" if there been a child in the pushchair.
He said NET has been told to take action to improve safety around the "platform-tram interface".
The report states NET has now trained travel officers to walk behind any group being taken off a tram to ensure everyone has got off before it departs.
A NET spokesman said: "Having initially reported the incident to the RAIB ourselves, we've worked closely with the organisation to establish what lessons can be learnt from what was an unfortunate but very unusual incident.
"We welcome the RAIB's findings and are now studying the full details of the final report, although many of its recommendations have already been implemented. This has included making adjustments to on-board CCTV, training and tram stop processes and procedures."
Related Internet Links
The BBC is not responsible for the content of external sites.