Boy hurt in 'stupid' YouTube roundabout stunt attempt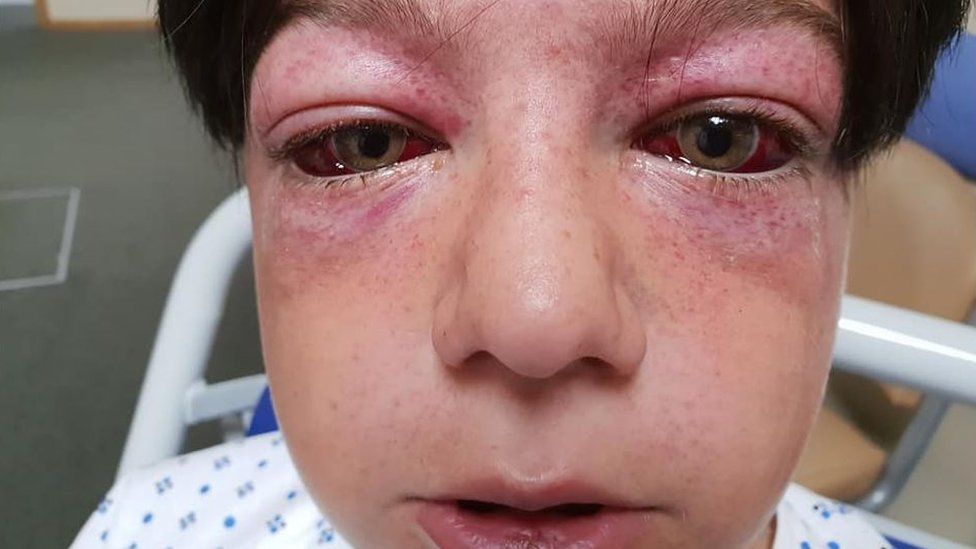 An 11-year-old boy could have died while attempting to recreate a "stupid" YouTube stunt, his mum has said.
Tyler Broome passed out while being spun at high speed on a park roundabout using the back wheel of a moped.
His mother Dawn Hollingworth said doctors told her his injuries were usually seen in fighter pilots suffering the effects of g-force.
She warned others not to copy the "silly prank", which could have had "life-changing consequences" for Tyler.
The schoolboy was with a group of older children at the park in Tuxford, Nottinghamshire, when he suggested they imitate the stunt, which features in hundreds of videos shared online.
A video released by Ms Hollingworth, 51, shows him spread-eagled across the top of the roundabout as it spins around.
At the end of the recording, he appears to fall down, his head flopping forward as the equipment comes to a stop.
Blood rushed to the youngster's head, causing swelling and bruising to his face, Ms Hollingworth said.
"The clips I have seen, everybody gets chucked off," she said.
"In Tyler's case he passed out from the g-force.
"His vision is all blurred and his eyes are red, filled with blood," she said.
"He got off, he was sick and dropped to his knees and passed out again on the field."
The teenagers Tyler was with left him alone in the park when he became unwell.
But he was helped by another boy who was passing by, his mum said.
"The doctors said if he was not fit and healthy he could have quite easily had a stroke and died."
Ms Hollingworth said she wanted to raise awareness of the dangers of the stunt .
"Tyler is aware he has done wrong and his injuries are caused by his own stupidity.
"But once he was unconscious he was unable to consent but they carried on and left him."
Doctors likened Tyler's injuries to those sustained by fighter pilots when they are not wearing an oxygen mask, Ms Hollingworth said.
Medics asked for her consent to write a medical paper, as they had never seen a case like it, she said.
Nottinghamshire Police has appealed for witnesses, or anyone else with video of Wednesday's incident, to come forward.
The force said Tyler sustained serious head injuries and remained in hospital in a serious but stable condition.
You may also be interested in:
Related Internet Links
The BBC is not responsible for the content of external sites.