Mariam Moustafa death: Defendants banned from contacting family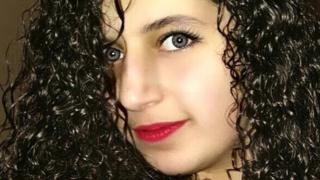 Four teenage girls have been banned from using social media to contact the family of an Egyptian student who died three weeks after an attack on a bus.
Mariam Moustafa, 18, went into a coma after the attack in Nottingham on 20 February, and later died of a stroke.
The four girls appeared at court charged with affray in relation to the attack, and the ban is a condition of their bail.
One pleaded guilty and three pleaded not guilty at Nottingham Crown Court.
Judge Stuart Rafferty said he was releasing them on bail on the condition they "do not contact either directly, or indirectly - so not speaking to them by social media, not at all - the family of the deceased girl".
Miss Moustafa - an Egyptian national who was born in Rome - was buried in Cairo in May following a memorial service in Nottingham attended by hundreds of mourners.
A total of six teenage girls have been charged with affray in relation to the attack, which happened in Upper Parliament Street in Nottingham city centre.
Two of the girls - aged 17 and 15 - had pleaded guilty at a previous hearing at Nottingham Magistrates' Court.
The girl who pleaded guilty at today's hearing is aged 17, and the girls who pleaded not guilty are aged 19, 17 and 16.
Only one of them - 19-year-old Mariah Fraser - can be identified because there are reporting restrictions due to the girls' ages.
The three girls who have pleaded not guilty are expected to stand trial on 23 April.
The others will be sentenced either on Friday or at a later date.
Speaking after the hearing, Mariam's father, Mohammed Moustafa, spoke about the effect her death has had.
"It's like they put me in the middle of the ocean and abandoned me," he said through an interpreter.
"Mariam was like an angel. She helped her sister, and brother, and mum, and myself as well.
"It's very hard. Right now nobody can believe it, especially my wife and my kids."
To discuss an East Midlands story, contact caroline.lowbridge@bbc.co.uk